Our custom human hair wigs and hair pieces are hand-manufactured from 100% European human hair for ultra-realism, beauty, and durability.
Schedule a free appointment with one of our trained and compassionate hair loss solution specialists in our San Diego wig store to get fitted for a custom wig or hair piece you can be proud to wear.
Real Wigs - Natural Looking, Secure & Comfortable
Losing your natural hair can lead to social anxiety and low self-esteem. Whether you suffer from a medical condition or your hair thinning or hair loss is the result of stress, genetics or age, Newport Hair Loss Center offers free cunsoltation in San Diego and two other locations in California to assist you.
At the Newport Hair Loss Center, we manufacture and design each wig using 100% real human hair. That is exactly why you can style these wigs in any way you like most.
No matter what kind of activities you indulge in, our wigs will support it in an effective way. You can take a walk, go swimming or run or participate in activities that involve a lot of running around and jumping, you can be sure that the hair wig will not slip or fall off. You'll get accustomed to wearing our wigs in a couple of days, and then you will simply forget that you have a wig on. That is the quality and beauty of the human hair wigs we manufacture.
We can help you find the human hair wigs to suit your taste and style.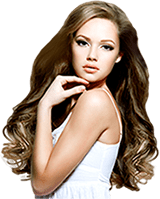 LA OFFICE
Beverly Hills
8383 Wilshire Blvd, Suite 800
Los Angeles, CA 90211
ORANGE COUNTY OFFICE
NEWPORT BEACH
240 Newport Center Drive, Suite 111
Newport Beach, CA 92660
SAN DIEGO OFFICE
LA JOLLA
4660 La Jolla Village Dr. Suite100
San Diego, CA 92122
NEWPORT HAIR LOSS CENTER
Newport Hair Loss Center gives hair loss sufferers a way to restore their appearance and boost their confidence, whether they are suffering from trichotillomania, alopecia, or are currently going through chemotherapy.
Site Map