Schedule a private consultation today with one of our trained and compassionate kid's hair loss solution specialists. We can help your child grow up feeling just like one of the kids without worrying about looking different or out of place.
That's because a custom wig or hairpiece will look and feel just like the real thing. Schedule today and give your child the best chance for a normal life with a 100% human hair prosthesis made with love from all of us at Newport Hair Loss Center.
Causes Of Hair Loss In Children
It is an unfortunate fact that many kids have to experience hair loss at some point in their lives. Whether due to alopecia, chemotherapy, Trichotillomania, a thyroid condition, burns, or another reason, these children are forced to endure the obstacles of maturity in addition to the devastation that comes from the loss of their natural hair.
At Newport Hair Loss Center, we believe that children should be free to explore their surroundings without being self-conscious in any way, shape or form.
With children's wigs and hair pieces, we can help to restore your child's confidence and boost his or her quality of life.
Your child may be experiencing thinning hair or complete hair loss for a number of reasons. These can include fungal or bacterial infections of the scalp, autoimmune diseases like alopecia areata, excessive hair pulling or Trichotillomania, and nutritional deficiencies, among others. Chemotherapy, thyroid disease, third-degree burns, and even tight ponytails can ultimately lead to kid's hair loss.
Children who experience the loss of their natural hair can be subject to severe psychological trauma and are commonly picked on by their peers. With our %100 human hair pieces and wigs using premium materials and a quality guarantee, you can give your little boy or girl the self-esteem to overcome life's obstacles to become a well-adjusted young-adult and adult.
We offer modern, kid-appropriate hairstyles that can be molded to your child's face shape and head circumference. Your kid's hair loss solution will be indistinguishable from the real thing, giving your child a great look he or she can be proud of.
Schedule a private consultation today to get your child fitted for a custom-designed hairpiece or wig.
We can help you find the human hair wigs to suit your taste and style.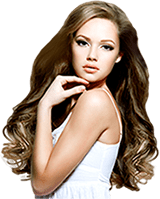 LA OFFICE
Beverly Hills
8383 Wilshire Blvd, Suite 800
Los Angeles, CA 90211
ORANGE COUNTY OFFICE
NEWPORT BEACH
240 Newport Center Drive, Suite 111
Newport Beach, CA 92660
SAN DIEGO OFFICE
LA JOLLA
4660 La Jolla Village Dr. Suite100
San Diego, CA 92122
NEWPORT HAIR LOSS CENTER
Newport Hair Loss Center gives hair loss sufferers a way to restore their appearance and boost their confidence, whether they are suffering from trichotillomania, alopecia, or are currently going through chemotherapy.
Site Map