The types of personal information we collect include name, contact information, identification information, credit card information is used for billing purposes only. We may record calls to our company for purposes of accuracy and general quality assurance. These information is used to aid in provision of our various products and services, including customer service, accounting, billing, collections and the marketing of our products.
Who we share this information with Newport Hair Loss Center does not share personal information with any third parties.
Depending on your daily activity and lifestyle, a minimum of once a week is recommended. If worn daily for 10 to 12 hours a day, we would suggest you wash it twice a week. But, there are factors that could change this, depending on the individual wearer, the type of styling products used or the environment in which the wig or hairpiece is worn. You, personally, will be the judge of when it needs to be cleaned. It will begin to feel oily, matte, and easy to tangle.
Depending on the type of hairpiece or wig you own, it is advisable to lightly pick or brush the ends to soften the appearance each time you wear it. On long pieces, always start from the ends. • Brushes that have single teeth from the base and have bristles that can flex or bend as they pass through the hair; this will lessen any possible damage.
• Hair picks are also excellent for light touch-ups because they pass through the fiber with minimum resistance or pulling.
• Combs with bigger spaces rather than close-together teeth.
The best way to store your wig is on a Wire Wig Stand or Wig Perch Wig Stand. This will keep your wig fresher and maintain its style between wearings. Keep your wig in a clean place, away from dust, sources of high heat and excessive humidity. Never enclose in a box or plastic bag (except while traveling).
Many of our customers choose to personalize their wig by having it trimmed or thinned by a professional hair stylist who has experience working with wigs. If your personal hair stylist is comfortable working with wigs, she will be your best option because he or she already knows how your hair is normally worn. Thinning the wig to frame your face shape perfectly or cutting in bangs are options that will customize your look so that your wig fits your individual features. It can add that finishing touch that makes your hairpiece feel just like your own hair.
Plan Ahead:Being prepared for hair loss can give you back a feeling of control and makes the process less traumatic. As soon as your doctor tells you that you may experience hair loss with your treatments, you should begin planning. You will want to cut a hair swatch that includes a representative sample of your hair color for safe keeping. This will make matching your hair color much easier later. Begin shopping and purchase your wig as soon as you possibly can.
Determine Your Head Size:Most women will wear an average cap, but there are also petite or large cap options. We will determine your exact measurements at our consultations.
Choose Your Hair Type: Here at Newport Hair Loss Center we offer 100% unprocessed European Human Hair. Many cancer patients come to us insisting that they want a human hair wig because they want the most natural look possible. The key is to select a high quality product.
We recommend the best cap types: Women will want to educate themselves on the types of wig caps that are available in order to make an informed decision. Our Caps come in 3 different types: Free Hold, Closed Weft Adjustable and Closed Weft Freehold. Our caps are free of any glue, tape or clips. The Free hold is ideal for bald scalps (complete hair loss) and provides superior hold for all life styles. The Closed Weft Adjustbale and Closed Weft Freehold is engineered for those with existing or growing hair.
Select Your Style: Once a woman has determined the size, hair type and cap type, choosing a style is an important next step. For women who had long hair before hair loss, it is often best to go a bit shorter with the wig length, as it will be easier to manage.
Select Your Color: Selecting a color is the final step and is often the most difficult. Our unprocessed 100% European human hair can be colored in any way. We encourage our customers to take advantage of our expert wig consultation services so that we can assist them through this process.
Many wig shops and tutorials will tell you to buy more than one wig. It's important to have one wig on hand before hair loss begins as being prepared will help alleviate your fears and give you back some degree of your control. If your budget allows, it is definitely a good idea to keep more than one wig on hand.
Your wig will last longer if not worn daily and a second wig can also help simplify your routine. Having more than one wig also allows you to wear one wig while washing and drying and the other to wear. If you have one of our human hair wigs, keeping one curled and one styled straight can help reduce time and stress during your morning routine.
Having two wigs allows you to change up your look without going through too much work, which is especially helpful when fatigue from chemo sets in. This being said, we do recommend waiting to purchase your second wig until you are certain that your first one is a "keeper". It's a good idea to give yourself a short period of time to determine what works actually works best for you before you purchase your back-up. Women who become accustomed to the ease of wearing a wig will often embrace the versatility that wigs allow, enjoying multiple style and color selections. Having fun with hair styles can be a bright spot in a sad situation when faced with hair loss.
Pro Tip: If you purchase more than one wig, buy them in the same style and have a stylist trim each wig to a slightly different length. This gives the illusion of hair growth and haircuts when you switch the wigs out.
Yes you can. We take hair which is at least 14" long. Or, we either recommend to donate your hair to the American Hair Loss Council or we can recommend a nonprofit organization called Wigs for Kids. They will use your hair donation to help provide wigs for needy children. If you have some extra hair that you don't need, consider donating it instead of selling it. By giving this gift, you can help a child who is coping with total hair loss.
Many local chapters of the American Cancer Society offer free wigs for cancer patients. You can contact the local American Cancer Society in your region for more information. You should buy a human hair wig in order to achieve a realistic look.
Once a year NHLC donates hair to House of Macdonald and American Cancer Society.For the look of natural hair growth from the scalp, we highly recommend a lace front wig which will give you a natural looking hair line and the ability to wear the hair pushed back and away from the face.
Also consider that the most natural looking wig is going to be one where the style suits your face shape and the color suits your skin tone. We recommend taking advantage of our free consultations so that you can ensure that you find the best possible color for you. Our certified wig specialist and stylists can color match your selection to a swatch of your own hair or a photo.
Absolutely. We have several options of Top pieces and hair extensions or ponytails to gain volume and length to your hair.
Hair loss from chemotherapy often results in a sensitive scalp. Our wig caps are softer and feel gentler on sensitive scalps than classic cap wigs.
In many cases, a hair topper can conceal thinning hair or areas of hair loss at the crown, hairline or top of the head. These toppers are a great option for women who do not have complete hair loss, as they can be blended seamlessly into your existing hair. We offer a wide variety of hairpieces that attach in different ways to disguise hair loss or thinning areas.
Pro Tip: You can also use toppers to add volume to existing hair or cover up new hair growth between colorings.
We have 3 designs for men in our collections. Please look at our product section.
Comb from the top to the bottom may cause losing of the hair, so we recommend our customers combing a wig from the bottom to the top. Please check out our youtube channel.
It will vary depending on how you treat your wig, how often you wear it and the kind of material it is made of. With proper care and maintenance your wig can last anywhere for a few years. Having 2 of the same wig and rotating between them is a good way to prolong the life of your wigs. Washing and styling your wig with the proper products will also help it last longer and keep it looking like new.
Cleaning the Human Hair wig is durable, generally costs more, and has the most natural look and feel of any wig you can buy. And can be dyed and treated the same as any human hair that grows from the scalp. Detangle gently, remove tangles using a wide tooth comb, working gradually from the ends to the base. Rinse with cool water to remove shampoo. Gently press with a towel to remove excess water.
Do not rub or wring. Wash submerges your wig in cool water. Mix in a small amount of Shampoo. Soak your wig for 3-5 minutes. Gently swirl without rubbing. Rinse with cool water to remove shampoo. Gently press with a towel to remove excess water. Do not rub or wring. Dry & condition: place on a folding wig stand, spray with a Leave-in Conditioner, and allow to air dry. DO NOT WRING OR SQUEEZE.
We do not recommend sleeping in your wig. The friction against your pillow can cause the wig to tangle and mat and the lifespan of your wig will be lessened significantly. We recommend wearing a soft sleep cap to keep your head warm and comfortable while sleeping.
Yes you can, but we do not recommend wearing your wig during showering or swimming. Your wig can become very tangled and matted when worn in the shower or pool and attempting to remove the matting can cause damage or breakage.
Pool chemicals and saltwater can damage wig fibers and cause them to break down quickly, lessening the lifespan of your wig. Chemical reactions can also cause your wig to change colors.
When the wig arrives, some clients like to take their wigs to our hair stylist while they are wearing them to have them cut and customized to fit their tastes.
Many insurance companies will cover all or a portion of the cost for a "cranial prosthesis," which in layman's terms is a fancy word for a "wig." We recommend contacting your insurance provider to determine your level of coverage for a "cranial prosthesis."
It's important to use this particular term as many will say "no" when they hear the word "wig," but will give an affirmative answer when you use the correct term. For best results, we recommend that you obtain a prescription from your doctor for a "cranial prosthesis" or "medical hair prosthesis" to include with your claim. Ask your doctor in include your ICD-9 code (which is your diagnosis code) on the prescription.
When purchasing your wig it is important to purchase from a salon that has known experience working with major insurance companies. There are often requirements that must be met by providers in order to be reimbursed for your purchase. We have successfully worked with every major insurance provider to assist our customers in obtaining the full amount due to them from their insurance companies.
Our human hair wigs made from European hair will accept color better because they are 100% unprocessed. If you choose to try to color your wig, be sure to go to a professional colorist who is experienced in dying human hair wigs. We also offer free wig consultations with our certified wig specialist who can color match your wig style to a swatch of your hair, another wig color or a photo.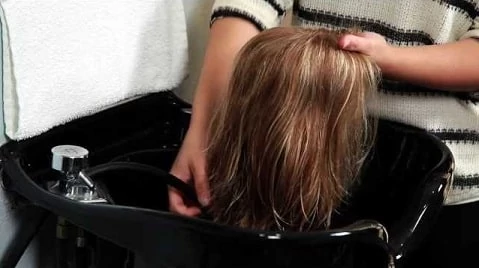 We can help you find the human hair wigs to suit your taste and style.