Can You Make a Wig from Your Own Hair for a Friend or a Relative who suffers from Hair Loss?
Cancer is so prevalent these days that most of us know at least one person who is suffering from the awful disease. While the medical establishment does have treatments available for cancer patients, these solutions often leave patients' immune systems depleted, and many end up losing their hair altogether, at least for a short time. Have you ever thought if it is possible to make a wig from your own hair?
Wigs offer an ideal option to cover hair loss induced by chemotherapy and other types of cancer medications. A custom wig allows the patient to restore their previous look and start living a happy life like before.
Do you know a cancer patient who is undergoing chemotherapy? Find out if a custom wig can be designed with your own donated hair.
Being able to help your friend restore their hair and confidence is truly rewarding, but can it be done? Can you take your natural hair and fashion it into a wig for chemo patients? If so, where do you send your hair, how much does it cost, and how long does the process take?
With all the questions you may have, we have helped by providing a few answers. If you are planning to donate your own hair to be fashioned into a cancer patient wig, you should keep these things in mind.
It is possible to have a wig designed from your own hair. However, it depends on the quantity of hair you have on your head.
The Benefits of a Custom Wig for Chemo Patients
Let us find out how your donated hair can be used to custom-make a wig for your cancer patient. But before that, let us understand the significance of a custom wig.
Not only can a one-of-a-kind hair piece help the patient conceal hair thinning and loss, but many patients find that wearing a wig gives them a sense of normalcy and consistency while undergoing cancer treatment.
A wig also provides privacy during their treatment. Wearing a hairpiece made just for your loved one prevents people from asking questions about their diagnosis, treatment, and appearance.
Wearing a wig even gives the patient the freedom to have fun with differing wig styles and colors and offers a reprieve from having to wear hats, scarves, or turbans to cover their thinning or lost hair.
The bottom line is that a custom wig for chemo patients can give your loved one confidence and strength while their fight against cancer is ongoing.
Can You Get a Wig Made from Your Own Hair?
At least 8 ounces of hair is required to design a custom wig from your own hair. The majority of people don't have so much additional hair on their heads. A single wig requires around 2-3 heads of hair.
If you don't have enough hair, that doesn't mean that all hope is lost. If your hair supply falls short of the 8-ounce requirement, you may need to purchase supplemental hair to make it enough. Many wig manufacturers can help with that regard.
You can avoid having to buy extra hair by asking friends and family members to add to your wig donation. You will want to ensure the hair you collect is similar to your natural hair in length, color, and texture.
Even if your hair has been color-treated or dyed, you can still send that hair in to be manufactured into a wig, as long as the hair is healthy enough to be fashioned into a wig.
How to Make a Wig with Your Real Hair
To fashion your hair into a wig for your friend, family member, or even yourself if you are planning to have chemo and anticipate losing your hair, you will have to find a custom wig maker. Newport Hair Loss Center is the best option in Los Angeles, San Diego, and Orange County.
When we receive your donation for a custom chemo wig, we will brush out any new growth before weighing the remaining unusable hair.
Many wig manufacturers keep an inventory of donated hair on hand that they can use to make up for any lapse in weight. The wig manufacturer will make sure that you are satisfied with the supplemental hair before it is added to the wig.
Is There a Minimal Length Requirement for Wig Hair Donations?
The minimum length requirement to fashion a wig from your own hair is 14 inches from root to end. Keep in mind that the hair will lose about three inches in length once the hair is hand-tied into the wig. That means that a hair donation of 14 inches will actually come out to 11 inches once the wig is finished.
How to Make Sure the Custom Chemo Wig Fits Just Right
Before you have a wig made for your friend or family member, or yourself if you are a cancer patient, the wig wearer will need to have their head measured.
This prevents the wig from being too small or too large. Instead, when the proper measurements are taken, you know that the wig will fit just right.
For best results, we recommend that the chemo patient have his or her head measured after cutting or shaving their head. This ensures we get the most accurate dimensions for a proper wig fit every time.
How Long Does a Custom Chemo Wig Take?
The time to complete a custom wig is about 8 to 12 weeks. The wig making process takes so long because each strand of hair is hand-tied.
This intricate process ensures more realism, as great care is taken to keep each strand uniform so that it lays just like the wearer's natural hair. The hair will fall naturally and can be styled or parted any way the individual prefers.
Can't Wait? Go for Ready-to-Wear Wigs
Getting a wig designed from your own natural hair is a good idea. But the process can take some time before the wig is ready. After the wig maker has collected the real hair from the donator, he or she follows a step-by-step process to design a custom hair wig as per your exact needs. Right from receiving the hair donation and brushing out any new growth to making up any lapse in weight with supplement hair to crafting the hair wig, you may have to wait for months.
If you cannot wait for too long for the chemo wig, a better idea is to opt for ready-to-wear human hair wigs. At the Newport Hair Loss Center, we bring our clients a broad collection of hair wigs that can be quickly customized and made ready to wear without much wait. No matter what color or size you look for, feel confident that you will find a perfectly matching hair wig in our ready-to-wear collections. Each of these hair wigs is made from 100% unprocessed European hair to give you the highest level of comfort with a nice flow, smoothness and shine. These human hair wigs are well-known to look as real as your own natural hair.
What Makes Our Ready-to-Wear Wig Collection Unique
These human hair wigs have been crafted using advanced techniques. We use only the finest quality of material to design these wigs. The hair we use is 100% Human European hair.
At our hair loss center, you will come across a wide variety of ready-to-wear wigs such as Lea (40.64/58.42cm), Lily (10.16/15.24cm) Sissy (30.48/40.64 cm) and Romy (25.4/35.56cm) among others. These wigs are hand-tied and offer a high quality cap construction. For more information on features of these products, reach out to one of our wig design specialists.
We provide ready-to-wear human hair wigs for women, men and kids. Whether you are a cancer patient or suffering from hair loss due to other reasons, these real hair wigs will definitely be a great match.
How to Improve a Custom-Made Chemo Wig
When we hand-manufacture a wig, we purposefully leave it "raw" after construction, allowing clients to customize the wigs any way they want.
Once your wig is completed, you get the opportunity to have the wig custom cut and styled by our professional wig experts. Newport Hair Loss Center offers complimentary wig styling services, which include a cut, color, and shape.
We recommend that you wear the wig while it is being cut and styled, so the stylist can determine how the hair will fall and frame your face.
What is the cost of making a wig from your own hair?
Wigs vary widely in cost, depending on the length, color, and amount of donation.
Many health insurance companies will cover part or all of the cost. The patient's doctor will need to write a prescription for a cranial prosthesis, which is the medical term for a hairpiece or wig. A hairpiece is a remedy for the treatment of chemotherapy side effects, after all, just like nausea medication.
The wig wearer is encouraged to call their health insurance company to ask if their policy covers a "cranial prosthesis" for hair loss related to chemotherapy or radiation therapy.
If the coverage is adequate, your loved one should ask about the maximum cost the policy will cover. Other questions include the paperwork required to submit a claim, including what details the doctor should include on the prescription, and how long it will take to get reimbursed.
In most cases, your loved one will have to pay for the wig upfront, then he or she will get reimbursed after the claim has been submitted to the insurer.
Medical Wigs Insurance Coverage Guide
How Long Will the Custom Wig Last?
When you order a custom wig from your own hair, you are getting a quality wig that is designed to last for many years. However, the lifetime of your hairpiece will depend on the method of storage and your level of care.
Wear and tear can shorten the life of your wig, and it's common to see a few strands shed or come loose from the cap after a few washes. This is normal and part of wearing a custom-made wig.
If the hair shedding becomes excessive, contact your wig manufacturer. It is possible to have more hair tied into your wig, in most cases.
What Activities Are Acceptable when Wearing a Custom Wig?
The wearer will be able to engage in most normal activities while wearing the custom wig. Chemotherapy can cause energy levels to drop and the patient may not feel like doing much besides healing from the chemo treatments.
However, the wig is built to fit the wearer's specific head measurements. This means that the hairpiece should feel snug enough for the person to walk or even run without the hairpiece falling off.
If the wearer ever becomes nervous about the wig falling off or slipping back, a piece of tape or glue on the ear tabs can help to adhere the wig in place for added security.
Playing sports and wearing a wig? Learn more about our Sports Wigs 
How Should the Chemo Wig be Cared For?
The hairpiece contains natural hair. So, you can take care of the custom wig like you care for your own hair. The good news is that the custom wig doesn't need washing as frequently as your natural hair does.
How many times you should wash the wig depends on how frequently you use the wig and in what kind of environment you wear it. Before giving the wig a wash, you should first remove all the knots and tangles in it through gentle brushing.
Rinse your wig with lukewarm water and finger comb shampoo throughout each strand. When running your fingers through the wig, focus on the ends, getting them as clean as possible.
While you are washing the hair, keep each strand elongated throughout. When finished, rinse the shampoo with lukewarm water and repeat the process with a conditioner.
We recommend using a professional grade or salon-quality shampoo and conditioner that doesn't contain chemicals such as sulfates and parabens
To keep the hair looking healthy and strong, we also suggest running a lightweight oil on the ends of the hair strands after washing to help restore moisture and balance.
Allow the wig to dry overnight on a mannequin head or similar wig stand.
How Do You Store a Custom Wig?
It is a best practice to store the chemo wig on a wig stand or mannequin, when not in use. Doing so helps the wig retain its "head shape." If you are not going to use the wig for weeks in a row, you should fold it in half and store it in a silk bag. Proper storage will keep the wig in excellent condition for a longer period of time.
What are the Best Wigs for Chemo Patients?
Hair loss caused by chemotherapy can cause the patient to suffer from an itchy and sensitive scalp. For this reason, we recommend a custom wig that comes with a monofilament cap, which will be most comfortable when worn for long periods. A lace front wig is another option that can make 100% human hair wigs more tolerable to wear.
Let us know if you want our wig makers to design a cancer wig with your own natural hair. We specialize in crafting wigs from donated hair. Whether you want the donated hair to be designed into a wig for just any cancer patient or for one of your friends, get in touch with us.
Does a loved one or a friend of yours need a custom hair wig? Be informed that these wigs are available in a broad range of options. You can choose from an array of blonde, black and brown wigs – and any shade in between. At Newport Hair Loss Center, we custom-design wigs for people of all age groups including men and women. Even if you are looking for children's wigs, there are several options to select from.
Donate your natural hair to us, and our experts will handcraft a human hair wig to conceal the hair loss of your family, friend, loved ones etc. Our meticulously crafted wigs will help patients restore their confidence and self-esteem.
Call now to schedule a free and private consultation so that we may discuss your future hair donation. 
We can help you find the human hair wigs to suit your taste and style.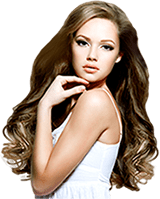 LA OFFICE
CENTURY CITY
1901 Avenue of the Stars, Second Floor
Los Angeles, CA 90067
ORANGE COUNTY OFFICE
NEWPORT BEACH
240 Newport Center Drive, Suite 111
Newport Beach, CA 92660
SAN DIEGO OFFICE
LA JOLLA
4660 La Jolla Village Dr. Suite100
San Diego, CA 92122
NEWPORT HAIR LOSS CENTER
Newport Hair Loss Center gives hair loss sufferers a way to restore their appearance and boost their confidence, whether they are suffering from trichotillomania, alopecia, or are currently going through chemotherapy.
Site Map