Nazy in the Community
Nazy's personal experience has fueled her desire to reach out to others going through the devastation of hair loss.  She recounts stories of hair falling out in clumps, it being all over everything, even the walls of the bathroom.  She remembers sitting on the bathroom floor in tears with clumps of hair in her hands.  These are the stories that help her clients not feel so alone when going through chemotherapy or alopecia hair loss.
If she can help even one person with cancer or alopecia, she feels she has been successful at what she does.  This is the reason the Hair Loss Support Group was founded.
Nazy feels if she had someone to talk to who had personal experience with cancer and alopecia during her own times of hair loss, that the experience would not have been so frightening and devastating.  Her hope is that the Hair Loss Support and Education Group will encourage others through this difficult time.
The Hair Loss Learning Center is another avenue of community outreach.  Through the Hair Loss Learning Center, Nazy volunteers her time to speak at cancer support groups, cancer wellness groups, and other cancer-related support groups.  Her inspirational story offers hope to those living with cancer.
Nazy is directly involved in many charity events, including the Susan G. Komen Race for the Cure, where the Hair Loss Center holds events on race weekend with a raffle for free wigs and beauty make-overs for cancer patients.
She also participates in local Relay for Life races in a similar fashion.  She is a supplier of donated human hair for the American Cancer Society and a volunteer for "Look Good… Feels Better"- an organization that uses professional volunteers to provide free services, such as wigs to cancer patients.
Nazy's story is one of adversity and triumph.  She is a remarkable person and an inspiration to all who come in contact with her.
OC Health Magazine, October 2009
"Physicians are also very appreciative of Curtis' services," explains Dr. Lavinia Chong.  "Nazy is an artist and a philanthropist.  By sharing her story, she demystifies the taboo of hair loss, which can occur as a result of chemotherapy or other conditions.  Nazy has assisted many patients to regain their self-esteem by counseling them and providing them with beautiful hair systems, which, in turn, allow them to reintegrate them into society."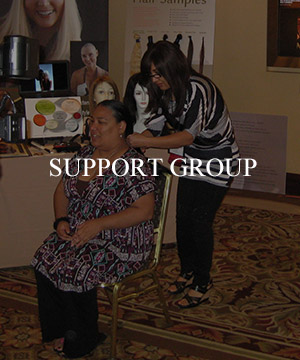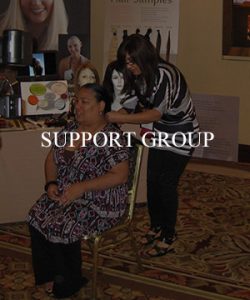 We can help you find the human hair wigs to suit your taste and style.