Finding the Right Wig Size: A Comprehensive Guide
Regardless of the type of hair system you wear, to feel comfortable and look natural, you need to choose the perfect wig size. Here is a simple step-by-step but comprehensive guide to help you understand how to find what wig size would be the best fit for you.
Aside from learning how to measure your head size accurately and other important factors in determining your ideal wig size, you will also learn about wig size adjustment, wig size charts, FAQs about wig size, plus some essential tips and insights.
So, take out your measuring tape, and let's find the right wig size for you.
 At our Hair Loss Center, we make you the finest custom-made human hair wigs that perfectly fit your head, because it is exclusively made for you.
Call for more information.
What Is Your Ideal Wig Size?
Wearing a wig that fits your head perfectly is necessary for a few reasons.
To feel comfortable: When your hair system is loose and too big, it keeps shifting and sliding. On the other hand, if it is too tight, it causes scalp irritations, headaches, and general discomfort.
To prevent health issues: If the wig keeps moving or puts too much pressure on your natural hair and scalp, it will cause some scalp/hair issues. For example, when the wig shifts frequently on your natural hair beneath it, it will cause static in your hair. Static leads to hair damage after a while.
To look natural: For many wig wearers, having a natural appearance is important. When a wig does not fit you properly, it does not sit well on your head. As a result, its hairline does not blend with your own and causes an unrealistic look.
To improve your confidence: When you are constantly worried about your wig sloping or pulling on your natural hair, you cannot have self-confidence or focus on your daily activities.
To make styling easier: A perfectly fitted wig is well-secured and lends itself easily to styling. You can also try various styles and hair accessories.
To extend the wig's lifespan: A wig that sits on your head well and is fixed easily does not need constant adjustment. Therefore, it gets less damage.
Now that you know how essential it is to wear a well-fitted wig, let's discuss measuring your head to find your wig size.
Wig Size Measurements; A Step-by-Step Guide
For an accurate measurement of your head to determine the right wig size, follow the steps below. You will need a flexible measuring tape (use a string or a ribbon if you do not have one, then you can measure it with a ruler.). And, for those with long hair, use a wig cap or bobby pins to flatten your hair against your scalp as much as possible.
Step 1: Measuring the Circumference
Start from the hairline on your forehead and bring the tape around the back of your head, just above the neck. Then go back to the front to form a complete circle. The tape should not be too tight or too loose on your head. Now, write down the measurement.
Step 2: Measuring the Front-to-Back Length
Place the tape at the center of your forehead where your hairline begins. Then, bring it over to reach the base of your skull at the back of your head. Again, the tape should follow the contour without pressing too hard against your scalp. Don't forget to note down the measurement accurately.
Step 3: Measure the Ear-to-Ear Width
Put the tape right at the top of one ear. Then, bring it over the top of your head (not back) to reach the top of the other ear. The measurement will determine the width of your head size.
Now it is the time to compare your measurements with the wig size chart. The wig size that is closest to your head measurements is the one to go with.
Please note that each wig manufacturer has its own wig chart. However, in the section below, we will review some common wig sizes that you will find in most size charts.
Common Wig Sizes in Size Charts
The general sizes below are only discussed to give you an understanding of what a wig size chart means. When you want to purchase one, you usually have a wig specialist by your side to help you choose the right wig construction and size. But if you want to buy online, then you need to measure your head first and choose a size based on that particular manufacturer's size chart.
You should expect to see the following sizes in a chart.
Petite Wig Size
This is for those with small heads. The circumference falls between 20 to 21 inches or 51 to 53 cm.
Average/Petite
It is between average and small. The circumference ranges from around 21 to 21.5 inches (53 to 55 cm).
Average
The average or medium size is found in every wig store because it fits many people. Its circumference is approximately 21.5″ to 22.5″ (55 to 57 cm).
Average/Large
This size falls between average and large and fits a head with a 22.5 to 23-inch circumference (57 to 58.5 cm).
Large Wig Size
The circumference typically ranges from 23 to 24 inches (58.5 to 61 cm).
Other Factors to Consider When Choosing the Right Wig Size
Although your head measurements play the most important role in determining your wig size, there are some other factors to consider as well.
Head shape: There are different head shapes, such as elongated, oval, and round. Some wig constructions and styles fit a certain shape better.
Hair thickness: Thick hair needs more space. So, when you want to choose the right wig size for yourself, do not forget to take your hair thickness into account. If you have thick hair, a slightly larger wig is needed to accommodate your natural hair volume.
Personal comfort: While it is necessary to wear a wig that fits, some people may feel more comfortable with a slightly looser or tighter one. Therefore, do not ignore your own preferences totally. After all, wigs are here to make you feel better.
Adjustability: Some wigs offer adjustable features, like straps or hooks. These options make small modifications possible to achieve a better fit.
In addition, we recommend you check out 'Our Expert's Guide to Choosing the Right Wig' and 'Facts and Myths about Wearing Wigs' to make an informed decision when buying a wig.
We offer a free 30-minute consultation at our centers in Los Angeles, Orange County, and San Diego. Give us a call to schedule an appointment.
Common Wig Size Adjustments and Modifications
The first thing to say about making any alterations to your hair system is that such wig customizations should be done by a wig specialist, otherwise, you can damage your wig. An experienced wig expert can spot the fit issues quickly and suggest a few possible modifications to achieve a precise fit.
Some common wig size modifications include
Wig Cap Alterations
Some adjustments can be made to the base of a wig, called the wig cap, to make it match your head shape and size. For example, reshaping some areas of the cap, letting it out, or taking it in. In some cases, the expert may recommend total wig cap replacement. To do so, the wefts are carefully removed and then attached to a more comfortable cap.
Wefts Modifications
The rows of hair sewn onto the wig are called wefts. Now, a wig stylist might add or remove some wefts to change the size of the wig just a little bit and improve how it fits.
Hairline Customizations
The wig hairline is perhaps the most important factor when it comes to looking natural. Trimming and plucking the hair in this area can make it match your face shape better and help to blend in with your natural hairline.
Adjustable Straps and Fasteners
Some wigs come with in-built straps and fasteners that can be tightened or loosened to fit and secure the wig. A wig expert may find adding more hooks or fasteners useful in improving the grip.
Padding and Cushioning
For slightly larger wigs, adding padding materials to some areas under the cap can enhance the fit and the overall appearance.
To sum up, when you buy a stock wig, it is not unusual to find some fitting issues. However, consulting with a wig expert allows you to figure out the problem and the options you have to modify the wig and solve the issues. These modifications need expertise and you should not try on your own.
Wig Size FAQs
Here are our killed wig specialists' answers to some of your common questions about wig sizes.
What If My Head Measurements Fall Between Two Wig Sizes?
In this case, we usually recommend getting the larger one. The reason is that larger wigs can be modified and adjusted more easily, and they will feel more comfortable on your head. Still, if you have the chance, it is a good idea to try on both and consult with your wig expert before purchasing.
Is Measuring Your Head for a Custom Wig Similar to Measuring for a Standard-Sized Wig?
Yes. The basic process is the same. However, as custom-made wigs are specifically tailored to fit your head, the wig maker might ask you for some additional information and measurements to ensure a perfect fit and a comfortable wig.
For instance, as mentioned above, your head shape is also an important factor in achieving an ideal fit. So, the wig specialist would ask you about the form of your head as well as your personal preferences and other considerations. When you are ordering a custom-designed wig, you will have the help of an expert in this process.
Read our 'Custom Wigs from European Human Hair' to learn more.
What Is the Most Common Wig Size?
As most people's head size is medium, the most common wig size is medium or average size.
Can You Adjust or Modify All Wigs?
Yes. All wigs are adjustable one way or another. However, this does not mean any wig can be adjusted to achieve a perfect fit for you. When the wig is too small or too large for your head, even after a lot of modifications the result is normally undesirable.
What Factors Should I Consider to Achieve a Comfortable Fit?
Except for the right wig size, the following factors play a role in your comfort while wearing a wig.
The wig cap construction,
The materials used,
The adjustable straps and fasteners,
What method you use to secure the wig,
How well your wig is fixed on your head.
Is There Any Wig Size That Fits All?
No. There is not any 'one size fits all' wig available because people's head sizes and shapes vary and it is necessary for a wig to fit right. Wigs are not like clothes; they are more like shoes for which a precise fit is essential.
 Are you curious about wig prices? Call to request a quote.
Custom Wigs or Stock Wigs, We Have Them All
We have explored topics and concerns about choosing the right wig size and provided some tips and advice. Still, if you are unsure about what size to go with, consult a wig specialist.
Besides, you always have the option of getting yourself a comfortable quality custom-made wig to ensure the best wig-wearing experience.
Whether you prefer to buy a stock wig or order a custom wig, we are here for you. Our professional wig specialists at our centers in Los Angeles (310-991-0087), Orange County (949-322-9555), and San Diego (949-640-4247) guide you in selecting the best wig for you and your specific needs and preferences. Call to schedule a free consultation session.
We can help you find the human hair wigs to suit your taste and style.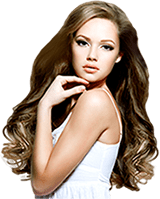 LA OFFICE
Beverly Hills
8383 Wilshire Blvd, Suite 800
Los Angeles, CA 90211
ORANGE COUNTY OFFICE
NEWPORT BEACH
240 Newport Center Drive, Suite 111
Newport Beach, CA 92660
SAN DIEGO OFFICE
LA JOLLA
4660 La Jolla Village Dr. Suite100
San Diego, CA 92122
NEWPORT HAIR LOSS CENTER
Newport Hair Loss Center gives hair loss sufferers a way to restore their appearance and boost their confidence, whether they are suffering from trichotillomania, alopecia, or are currently going through chemotherapy.
Site Map