What is the Best Natural Looking Wig to Buy?
The wig that will offer the best natural look is out there. But finding that perfect wig is not going to be easy, particularly if you have only little idea about different types of wigs and how each of them is made.
Wigs have emerged as a viable solution to cover hair loss both in men and women. If you are suffering from hair loss due to hair thinning, male or female pattern baldness or alopecia, you will come across a wide variety of wigs to maintain your hairstyle and live a normal life. Based on what material they are made from, wigs can either offer a fully natural look or an artificial look. If you do not like the idea of dyeing your original hair, you can try wigs for a new, improved look. Whatever the reason, it is difficult for the uninitiated to differentiate one type of wig from another, in terms of quality and price. To buy a wig with the most natural look, you will need to broaden your knowledge about wigs and understand the terminology.
Human Hair Wigs vs Synthetic Wigs
Broadly speaking, you will come across two types of hair wigs at a wig store or a hair loss center. Human hair wigs are different from that synthetic ones in terms of the hair they are made of. Synthetic wigs are manufactured from artificial fiber whereas human hair wigs are made from real human hair.
Both these wigs come along with their own benefits. If you have a limited budget and want a new look, you can go for synthetic hair wigs. Before you buy a hair wig, you should first determine what your exact needs are. Synthetic wigs do not require a lot of maintenance. These wigs also retain their style after you have washed them. On the other hand, human hair wigs can be restyled as per your specific needs. You will need to store human hair wigs in a proper manner to keep them in excellent condition for a long time. With the help of a professional, you can get your human hair wig dyed in any natural color of your choice.
If you are in a hurry, you can buy and unpack synthetic wigs and wear them right away. Little or no styling will be required.
However, human hair wigs offer some of the best advantages that the modern-day man or woman looks for. While synthetic wigs have their own limitations, wigs made from real human hair are preferred for their versatility. These wigs function like your own hair. You can style them similar to your own hair to achieve a wide variety of looks without anyone noticing you are wearing a wig.
For the Most Natural Look, Buy a Human Hair Wig
If you plan for the best natural look, any hairstylist will recommend wigs that are made of 100% real human hair.
Human hair wigs are actually a unique invention. Just think about how your own hair falls and swings. Human hair wigs have exactly the same characteristics as your own hair. The simple reason is they are made from hair, sold or donated by humans in various parts of the world.
When it comes to human hair wigs, styling has no limitations. You will be able to curl, blow-dry or iron these wigs in the same way as you style your real hair. The majority of the hair that is used to craft human hair wigs comes from European countries, India and China. So, there are multiple varieties of human hair as well. Among all of these, the most preferred human hair is that which comes from Europe. This is known and wanted for its fineness. Wigs made of 100% European human hair offer the most natural look and are a bit more expensive.
Types of Human Hair Wigs (As Per Lace Area)
The premium quality lace material is used to manufacture human hair wigs. Based on the lace area, these wigs can be either:
Lace Front Wigs
Human hair lace front wigs are one of the most popular types you should wear for an incredibly natural look. These hair wigs are so named because the lace material is used to cover only the front portion of the scalp area. The lace front hair wigs also have a highly elastic mechanical mesh into which human hair is sewn. The color of the lace material is similar to your skin tone.
In fact, the entire wig sits on the scalp and blends with your own hair in such a way that it is hard to recognize for anyone you are actually wearing a wig on your natural hair – even from a close distance.
Full Lace Wigs
Full lace human hair wigs offer comprehensive coverage for any type of hair thinning or hair loss in men and women as well as kids. These wigs are meticulously designed with the use of premium quality lace and 100% unprocessed human hair. The lace material in these wigs covers the entire scalp.
These hair wigs are sought for their versatility, light weight and breathability. If you choose to buy these wigs, you will have the freedom to acquire a broad variety of looks. You can mid-part the hair and use other styles for an altogether new look. The special lace design of the wig makes it easy for the scalp to breathe, even when you have the wig on for several hours in a row. Plus, the high quality lace cap has tough resistance to normal wear and tear.
Full lace wigs are also referred to as hand-tied human hair wigs because all Remy hair is sewn into the holes by hand. For more details on this type of wigs, visit this guide Full Lace Human Hair Wigs.
Types of Human Hair Wigs (Based on Texture)
You will find no dearth of variety in human hair wigs according to the texture. Some of the most popular ones are as follows:
Curly Human Hair Wigs
Both lace front and full lace human hair wigs are available in curly texture. Whether a woman has lost her hair due to a medical condition or simply wants to flaunt a transformed look, curly hair wigs look fabulous. The small, attractive curls of these wigs enhance the beauty of manifolds.
Straight Bob Human Hair Wigs
These human hair lace wigs are one of the most sought-after by women of various age groups, all across the world. If you plan to add a little softness to your overall look, this type of wigs is an ideal option.
Human hair bob wigs have become one of the hottest trends for their unique and fresh look. Even if you already have a wig collection, you will love to add this one to enrich the collection further. In short, these wigs offer a perfect mix of a great hairstyle and an avid reflection of the personality.
If you want to buy a straight bob human hair wig, you should definitely check out our Amani Hair Collection. The wig is made of 100% real and unprocessed human hair and designed with a closed weft adjustable cap. Talk to one of our hair loss specialists at the Newport Hair Loss Center in Los Angeles, Orange County or San Diego. We'll match you with the best bob hair wig.
Human Hair Wigs with Natural Waves
For more length and volume, you should go for one of the straight human hair wigs. These are the most basic types of wigs made from original human hair. The popularity of these wigs has increased due their smoothness and luster and the freedom that they offer in terms of restyling.
Think of these hair wigs as you own hair. These have the flow, swing and fall exactly like your own natural hair. Once you start to wear straight human hair wigs, you should stop bothering about any kind of damage to your existing hair. The design of the wigs is so unique that it supports natural hair growth. The best part is that you can apply any style to these wigs, as per the occasion and the need. To have these dyed, you should take the hair wig to a professional.
This type of human hair wigs is a great match for anyone who is looking to add natural waves to their hairstyle.
The lace wigs are preferred for its soft volume and unique look. Once you have these hair wigs on, you will look extremely elegant and fashionable. The attractive look of the wig will keep you feeling great and confident, wherever you go. The flawless look will have people thinking you spent an entire day at the beauty parlor. The good news about these lace wigs is they need only a little maintenance. Plus, you can apply curls or straighten the hair as per your need.
At the Newport Hair Loss Center, you'll find a variety of styles to suit your hair loss. Apart from our Amani Signature Hair Collection and the Ready-to-Wear Collection, you should also have a look at our Berlin Collection, which features hair wigs made of 100% unprocessed European layered human hair. Our hair loss center has uniquely crafted human hair wigs for women, men and children to suit specific needs and budgets. Our ultimate goal is to help you conceal your hair loss and boost your confidence to take on the world.
How to Buy a Wig that Will Look Most Natural
If a wig doesn't fit you properly, it will not look natural. When you are looking to achieve the best natural look, you need to take some key factors into consideration. Given below are some useful pieces of information to help you select the most ideal wig which fits well and looks unbelievably natural.
Facial Shape:
To find the most perfect wig, you should match the wig with the shape of your face. You are fully aware of the fact that different people have different facial shapes. You must have seen men and women with oval, round, square and oblong facial shapes. So, before you head out to a hair wig store, you should know what shape your own face is. Once you are aware of your facial shape, you will find it easy to pick the right type of natural human hair wig.
Wig Size:
To be able to buy natural looking wigs, you should consider the size of the hair wig. If a wig is too large or too small, people will easily notice you are wearing a wig. The wrong size of hair wig will also create various issues in terms of scalp comfort. Plus, you will always have the risk of the wig falling off as you exercise or jump or take part in other sports activities.
Cap Type:
Whichever hair wig you choose to buy, the type of cap it is built upon will play a key role. Remember that it is the cap which sits on the scalp. Even if you have the wig colored and styled in a way you like, poor cap construction will give away its naturalness. Different types of caps include open cap wefts, traditional wefts, monofilament caps and lace caps among others. Make sure you select a well-crafted natural lace front or full lace wig, which has the right type and quality of cap for a high level of comfort and natural look.
Talk to a Hair Wig Matching Specialist
You will certainly need the expert help of a professional to be able to select the right type of natural looking hair wig. At the Newport Hair Loss Center, we design a broad range of natural-looking human hair wigs for men, women and children. At our center, you will have an array of styles, sizes, colors and textures to choose from. Feel free to give our office in Los Angeles, Orange County or San Diego a phone call or write us an email for your free consultation.
We can help you find the human hair wigs to suit your taste and style.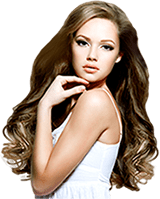 LA OFFICE
CENTURY CITY
1901 Avenue of the Stars, Second Floor
Los Angeles, CA 90067
ORANGE COUNTY OFFICE
NEWPORT BEACH
240 Newport Center Drive, Suite 111
Newport Beach, CA 92660
SAN DIEGO OFFICE
LA JOLLA
4660 La Jolla Village Dr. Suite100
San Diego, CA 92122
NEWPORT HAIR LOSS CENTER
Newport Hair Loss Center gives hair loss sufferers a way to restore their appearance and boost their confidence, whether they are suffering from trichotillomania, alopecia, or are currently going through chemotherapy.
Site Map