Choose the Best Hairstyle Based on Your Face Shape
No matter if you want to style your natural hair or your hair system, some factors help you to choose the best hairstyle for yourself. A style that brings out your best features and makes you look more attractive than ever. The shape of your face, for example, plays a crucial role here.
So, in this blog, we will discuss different face shapes and the hairstyles and cuts suitable for each. Besides, you will learn about other main factors contributing to choosing the right hairstyle, such as your skin tone.
How to Choose the Best Hairstyle
Except for the face shape; your complexion, your hair texture, the length of your neck, and your lifestyle are the most important factors to consider when you want to choose the best hairstyle for yourself. Not to mention, the budget you have in mind to spend on a wig or a hairdo.
Best Style and Cuts Based on Your Face Shape
Before anything, you should decide which one of the following basic shapes describes your face best. Then, you can learn about the styles and haircuts that go with it. To recognize your face shape, you need to answer the questions below.
Which part of your face is the widest? Is it your jaw, forehead, or cheeks?
What is the shape of your jawline? Is it round, pointy, or square?
Is your face long or short?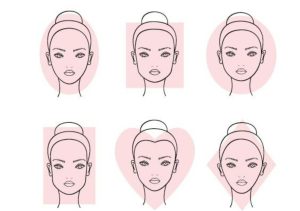 According to your answers, one of the following shapes is yours.
Oval
An oval-shaped face is similar to an upside-down egg. It means the forehead is tall and just slightly wider than the rounded chin. Moreover, the cheeks are the widest part of the face.
If you have an oval shaped face, you should be grateful because it goes with almost any style and cut. Among the various options, adding some volume with waves and curls is desirable, especially with layers or a mid-length bob that is side-parted. The volume creates some balance.
To choose the best hairstyle, you should pay attention to other features of your face, such as your nose and eyes, and go with the option that brings out your best features. However, you should avoid styles that make your face look longer, such as updos that add too much height.
Check out our outstanding human hair wigs here which come in various styles and cuts.
Square
A square face is not that difficult to recognize. Mainly, the length and the width of the face are almost equal and the sides are straight. The jawline is angled but not too sharp.
If you are a lucky square shaped face, then you should try styles that look full at the sides of your face, such as textured or tousled shags, bobs, lobs, and long layers. So, don't be afraid of some volume on the sides and the crown of your head to create symmetry. Another ideal style is side-swept bangs.
These styles are the best to avoid further accentuation of the angular jaw and squareness. On the other hand, some hairstylists believe blunt cuts enhance the angled jaw and do not recommend them for a square-shaped face.
Round
Like the square face, a round shaped face does not show a significant difference between its width and length. In other words, round-shaped faces are similar to square ones but without angular features. The cheeks are the widest part of a round face and the chin is rounded.
Many styles and cuts go with this common face shape. If you have a round face, your best choices are long cuts, such as long layers or bob, especially textured ones. Longer hair can make your face appear less round and, as a result, you look thinner. However, pixie cuts with some volume on the crown of the head can make a round face appear longer to create balance. Deep side parts look fabulous with round faces as well because of their sharp angle.
Generally speaking, styles and cuts that add some angles to your face are ideal for a round shaped face. Keep in mind that it is easy to add extra width to a round face, which is not desirable. This mostly happens when you tuck your hair behind the ears or wear your hair up.
Heart and Triangle
The most prominent features of a heart-shaped face are the wide forehead and pointy chin. So, if your answers to questions 1 and 2 are respectively 'forehead' and 'pointy', you are most probably a fortunate heart shape. Some think that a heart shaped face always comes with a V-shaped hairline, but it is not true. Just consider it as an upside-down triangle.
Because of the wide forehead, face-framing layers, bangs, and fringe look great with this shape, to create balance and avoid emphasizing the wide forehead. Also, long and mid-length haircuts seem to be the best choice. Even pixie cuts, if you are a fan of short haircuts.
Diamond
While a heart shaped face can look like a triangle, a diamond shaped face looks like a diamond, as the name suggests. But the hairline in a diamond face is narrower than a heart one. To find out if you are a beautiful diamond-shaped face or not, imagine a line that starts from the middle of your hairline and goes then to one of your cheeks. From there, it goes down to your pointy chin and then up to your other cheek. Is the imaginary shape a diamond?
Another marked feature of a diamond shape is the high cheekbones. To avoid enhancing the angles further, long layers (especially those that frame your face), textured or tousled shags, fringe, and side-swept bangs seem ideal. In general, you should try to make your forehead and chin look wider to create more symmetry. Besides, to soften the angular features, curly and wavey styles are here for you.
On the other hand, if you love the angles and you want to show them off, you can wear your hair up or consider short haircuts.
Rectangular or Oblong
Rectangular or oblong shaped faces are somehow the longer version of oval and square shaped faces. It is a bit tricky when you want to choose the best hairstyle for this shape.
To make the face seem wider, styles that add some volume to the sides are more flattering, such as layers with waves. Shoulder-length cuts (especially between the chin and shoulders) go better with this kind of face as longer cuts make the face appear even longer.
Pear
Pear shaped faces are somehow triangular but the widest part of the face is the jaw. The forehead is narrow, and the resulting shape looks like a pear or a triangle. To make it more balanced, you should consider styles with some volume to the top, to make the forehead look fuller. Also, long cuts deemphasize and soften the jawline, which is flattering for this shape.
Best Styles for Long and Short Necks
To choose the best hairstyle, you should also consider the length of your neck. Unlike face shapes, this is not that complicated.
Long necks: short haircuts that end near the jawline bring out your face and jaw. At the same time, it covers your neck partially. Short bobs are a good choice to consider.
Short necks: short haircuts that show the back of your neck completely look great, especially, in combination with side-swept bangs. This makes the neck look longer.
For those with normal neck sizes, any style looks great as far as the neck is involved.
Hairstyles in Human Hair Wigs and Synthetic Wigs
If you are considering purchasing a wig, you should know that the fiber of the strands is another relevant factor when you want to choose the best hairstyle.
The strands in human hair wigs are natural hair, while they are made of artificial materials in synthetic wigs. This difference in fiber makes each one more suitable for certain styling choices.
Human hair wigs: as the fiber is natural, like your natural hair, you can color them, frequently style them, perm them, etc. So, if you want to be able to restyle the wig, human hair wigs are the best choice for you. Of course, you should choose the styling products carefully. See our recommended products here.
Synthetic hair wigs: the monofilament fiber does not lend itself well to restyling. So, normally you cannot color, perm, and restyle your synthetic hair piece. The material cannot take heat from hairstyling devices unless it is heat friendly. However, synthetic wigs do not lose their style after a wash, and this is a good option for those who do not want to restyle their hair every day.
To learn more about styling and maintaining your hair system, click here.
Best Hair Color for Your Skin Tone
Besides the cut and the style, choosing a suitable color that goes well with your complexion can be confusing. First, you need to know your skin tone. Is your skin warm-toned or cool-toned?
If you can see shades of blue as the undertone of your complexion, then you have cool-toned skin. On the other hand, the undertones of warm-toned skin are yellowish or gold. To make it easier, check out the color of your veins at the back of your hands or inside your wrists. If your veins look purple or blue, you are most probably cool-toned. If they look green, you are most likely warm-toned.
Another way is by looking closely into your eyes. Blue and green specks in the eyes are an indicator of cool-toned skins, while yellow specks are mostly found in warm-toned skins.
You should know that some skins are neutral as they have both cool and warm tones. Almost all colors, whether for hair or clothes, tone with neutral skin.
Now that you find out your skin tone, let's find out what colors go best with it.
Warm-toned Pale/Fair Skin
Now that the skin tone is warm, you should counterbalance it with some cool-toned colors. For example, cool blondes usually come with blue and purple undertones that make up for the warm undertones of your skin.
Cool-toned Pale/Fair Skin
To counteract your cool undertones, consider colors with warmer tones, such as strawberry blonde or copper.
Neutral Pale/Fair Skin
The best colors for this tone are a combination of cool and warm tones. But generally, all neutral skins go with almost all kinds of hair colors.
Warm-toned Medium Skin
Cool brown colors can match this complexion very well.
Cool-toned Medium Skin
To avoid looking washed out, it is better to go with warmer browns, such as caramel brown.
Neutral Medium Skin
Black with cool shades can look gorgeous on people with this type of skin.
Warm-toned Deep Skin
As the depth of this type of skin is desirable, colors that enhance this depth even further are flattering. For example, warm browns.
Cool-toned Deep Skin
Warm chocolate colors add some warmth to your look. However, cool blacks can be a good choice as well.
Neutral Deep Skin
Warm and vibrant colors are very flattering to this skin type, such as chestnut brown.
Newport Hair Loss Center Offers You Help
At our center, you can find quality real hair wigs, both custom and stock, in a variety of styles, cuts, and colors. Don't worry if you are not sure which style and color suit you best, our professional wig makers are here to help you make the right choice.
You can call us at 949-640-4247 for a free consultation or visit us at our centers in Newport, Los Anglos, and San Diego to help you choose the best hairstyle.
We can help you find the human hair wigs to suit your taste and style.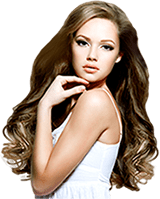 LA OFFICE
CENTURY CITY
1901 Avenue of the Stars, Second Floor
Los Angeles, CA 90067
ORANGE COUNTY OFFICE
NEWPORT BEACH
240 Newport Center Drive, Suite 111
Newport Beach, CA 92660
SAN DIEGO OFFICE
LA JOLLA
4660 La Jolla Village Dr. Suite100
San Diego, CA 92122
NEWPORT HAIR LOSS CENTER
Newport Hair Loss Center gives hair loss sufferers a way to restore their appearance and boost their confidence, whether they are suffering from trichotillomania, alopecia, or are currently going through chemotherapy.
Site Map