Derma Roller for Hair Loss: Effectiveness, Uses and Tips
Hair loss is a very stressful experience for men and women, particularly those who are still relatively young. It also has a psychological impact on many people, who may lose their self-esteem. If you are experiencing hair loss, you shouldn't lose heart, as there are several methods available to solve your problem. All you need to do is find those techniques which work best in your case. You may have tried a couple of home remedies and other ways to prevent hair loss, but have you ever thought about using derma rollers to promote hair growth?
Let us talk about derma rollers in detail so that you are fully aware of this device, how to use it correctly and the effectiveness of this device as a technique to prevent hair loss and stimulate new hair growth.
What is a Derma roller?
A derma roller is a small, cylindrical device which has tiny needles to penetrate into the dermal layer in order to stimulate the production of new cells and improve circulation.
The device works in a way that doesn't cause skin damage or pain. Since a derma roller is a hand-held device, anyone experiencing a hair loss problem can use it on their scalp to boost new cell production.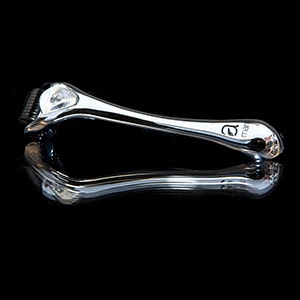 Derma roller has been around and used for decades. People have used this method to beautify and revive their skin. In a recent 2015 study, researchers found that this simple device can prove to be effective in solving the problem of hair loss. People included in the study had a scalp condition called androgenic alopecia.
After using the derma roller method for a span of 12 weeks, all alopecia patients showed remarkable hair growth. So, the use of derma roller is no more limited to only improving the skin texture, but it is also effective in treating hair loss.
Though you can use a derma roller at home on your own, you may need the help of a dermatologist or a hair loss professional for highly effective and advanced use of this device, the process called 'microneedling'.
How a Dermaroller Works
The dermarolling method for stimulating new hair growth is based on science. When the tool is used on the scalp, its tiny titanium-made needs cut into the dermal layer.
Once there are tiny punctures created all over the scalp, the human body begins to respond with inflammatory molecules. In a bid to heal the punctures, the body revives the scalp and the growth of new hair starts.
The derma roller performs two main functions:
It stimulates the scalp to increase the production of new cells and
It boosts blood flow. So, once the epidermis has been punctured, the body responds by sending more blood for the healing of the tiny wounds.
Whether you are a man or a woman, you can use this easy and safe technique to prevent hair loss or hair thinning.
The derma roller's needles are very tiny, and so they don't harm your scalp in any way. All that those tiny pricks do is proliferate the skin cells and begin the healing process.
The healing method consists of three steps:
Inflammation
Proliferation
Maturation
When using micro-needling as a treatment for your hair loss problem, you should head over to a beauty salon or a hair loss center. A trained professional or hair loss expert is specially trained in the use of a derma roller in keeping with the specific needs of the hair loss patient.
A dermatologist or trained professional will perform the entire procedure in a correct and effective manner. There are some scalp areas which you'll find hard to reach on your own. But a professional will properly puncture all the target areas without causing any damage to the scalp.
Depending on the severity of your hair loss problem, the expert will also come up with the right frequency of micro-needling. After the first session of your micro-needling, the professional may want to increase or decrease the number of your sessions each week.
Effectiveness of the Dermarolling Technique
Clinical studies have already proven the effectiveness of using micro-needling methods as a treatment for hair loss.
In many people, derma roller has shown excellent results. However, the results from this treatment vary from one hair loss patient to another.
In fact, how much success you will get depends on the severity of your problem as well as the experience of the person in the use of the derma roller. You'll see a large number of positive reviews from people who have benefited from this technique. On the other hand, there are some people who haven't seen great results. So, the derma roller technique works just like all other treatments in terms of results.
Researchers have backed up the use of the derma roller as a simple, safe and effective method for curing hair loss. While applying this technique, you can be rest assured that there will be no damage to your scalp.
One proven way to improve results from this method is to use micro-needling together with a hair loss medication. If you are suffering from scalp complexity, you should seek the consultation of a dermatologist or a hair loss expert to find out what will give the best results in your case. Dermaroller and microneedling give the best results in people who have androgenic alopecia.
How to Use a Derma Roller
The small microneedling device isn't hard to use. However, using it on the scalp needs balance. You need to know in what direction the device should be moved and how much pressure should be exerted while moving it.
If this is your first time, you might not be able to use it in an effective manner. In that case, a better idea is to turn to a trained hair loss expert or dermatologist.
To get started, you first need to clean your scalp properly. Also, clean and disinfect the derma roller before using it.
In any case, don't forget to remove the tangles and knots in your hair using a wide-tooth comb.
Now, you should apply the tool directly onto the target area of the scalp. If you have hair loss across the scalp, you'll need to apply the device all over the scalp in a uniform manner.
It is a good idea to cover the entire area of the scalp, one section at a time. This will ensure that you don't skip any part of the scalp including those areas that are hard to reach. Start slowly and move the device in horizontal, vertical and diagonal directions.
When rolling the device, put a little pressure so that the device cuts into the dermal layer of the scalp. This is where you'll need to apply the correct amount of pressure. Don't apply excessive pressure, as this may cause pain. If a section has hair, remember to roll the tool in the direction of the hair strand.
It is a good practice to apply the device on the frontal section of your scalp. Then, you can slowly move the tool towards the back of the head. In order to cover all the areas, you should repeat the application of the tool back and forth.
The device should be rolled 3-4 times over the target area for best results.
After you are done micro-needling all the affected areas of the scalp, you may want to put some peppermint oil on the scalp to help with the stimulation of new hair growth. Don't forget to clean and disinfect the derma roller once again.
What Needle Size to Use for Hair Growth
When using the derma roller, the size of the needle is a key concern. You'll find derma rollers with small needles as well as long needles. Before you start the application of the device on your scalp, you must know what needle size it is.
Needle sizes between the 0.225-0.5mm range are ideal for the best effect on your scalp. According to experts, you should start with a small needle size, which will cut into the dermal layer at the proper depth for hair growth. If required, you may want to move to a longer needle size gradually or in case the puncturing isn't adequate.
If you plan to use a longer needle size, particularly a size beyond 1.5mm, you should talk to a professional or dermatologist. Incorrect use of long-size needles can result in the scarring of the scalp.
Also, the frequency of the derma roller application will depend on the size of the needle you use. If you are using a small-size needle, you can apply the device every other day.
If the treatment causes pain, the frequency of the application will need to be reduced. When using a derma roller with a long needle, completing the procedure once every week is a good practice to follow.
What are the Side Effects of Using a Derma Roller?
The use of a derma roller is proven to be a safe and effective treatment for hair loss and hair thinning. So, the chances of having side-effects are very low. Still, in very few cases, it is possible to experience the following.
Pain
Redness
Swelling
Bruising
Inflammation and redness of the scalp is nothing serious. These are common after a micro-needling session. However, the inflammation and redness will go away in just a couple of days. People with sensitive scalp may experience side-effects which may include scarring.
The professional who performs your hair loss treatment will guide you to take the right precautions after receiving a micro-needling session. If you follow their advice, you'll have nothing to worry about.
Useful Dermarolling (or Micro-Needling) Tips
The scientific derma roller method gives results both in men and women who are having hair loss problems.
For the best results, it is important to select the right needle size for treating your hair loss. If you get in touch with a beautician or a hair loss expert, they'll first check the amount of hair that you still have and then recommend the best needle size to stimulate the growth of new hair.
Incorrect use of the derma roller will catch and pull the existing hair. If you are a woman with long hair, you should wet your hair before applying the hand-held tool on to your scalp.
Make sure your remaining hair is untangled and remember to move the device in the direction of the hair strand – in areas where you still have hair.
It is a good idea to seek help from someone who has experience in micro-needling. Doing it on your own may not give you the desired results. You may not be able to have proper puncturing, if you perform the procedure by yourself.
Always use a derma roller from a reputed brand. You should purchase your derma roller from a manufacturer that uses premium quality materials.
One micro-needling session will not solve your hair loss problem. To get the best results, you'll need to complete various sessions of micro-needling and continue the treatment with the right frequency.
Amani's Derma Roller
If you are looking for a high quality derma roller, you might want to check out Amani's Derma Roller, which has been designed for the most effective stimulation therapy. Amani Hair & Beauty Products are one of the most preferred by people.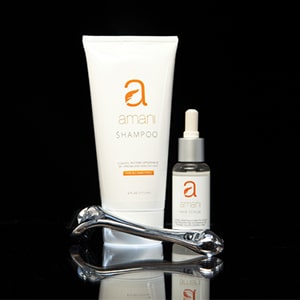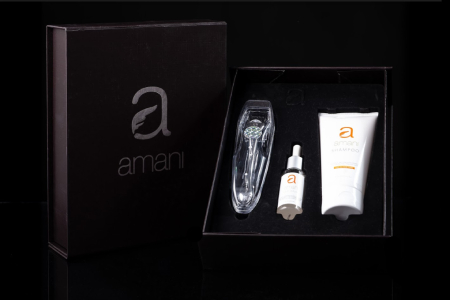 Using Dermaroller: Frequently Asked Questions (FAQ)
Q: Is derma roller effective for treating hair loss?
A: Yes. The derma roller method has shown remarkable results both in men and women suffering from hair loss conditions.
Q: What is the right frequency for using a derma roller?
A: The number of micro-needling sessions required for hair growth varies from person to person, depending on the needle size being used.
If you are using a needle size within the 0.15 – 0.5mm range, you'll need to complete the procedure at the interval of every 1-3 days. For people using needle size between 0.5 – 1.5mm, the application should be completed every 3-4 weeks.
Q: How should I apply the derma roller onto my scalp?
A: Clean your scalp first. Then apply the device directly onto your scalp. Make it a point to cover all the target areas, one by one. Be gentle while moving the tool across the scalp.
You'll need to roll the device over the scalp 8-10 times to ensure you don't leave out any section or the target area.
Q: What is the best derma roller size for my scalp?
A: For the best effect on your hair, you should use a needle size ranging between 0.225 and 0.5 mm. The purpose of using the needles is to do proper puncturing across the target area, without causing pain.
We can help you find the human hair wigs to suit your taste and style.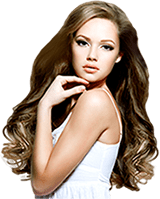 LA OFFICE
CENTURY CITY
1901 Avenue of the Stars, Second Floor
Los Angeles, CA 90067
ORANGE COUNTY OFFICE
NEWPORT BEACH
240 Newport Center Drive, Suite 111
Newport Beach, CA 92660
SAN DIEGO OFFICE
LA JOLLA
4660 La Jolla Village Dr. Suite100
San Diego, CA 92122
NEWPORT HAIR LOSS CENTER
Newport Hair Loss Center gives hair loss sufferers a way to restore their appearance and boost their confidence, whether they are suffering from trichotillomania, alopecia, or are currently going through chemotherapy.
Site Map