Hair Extensions Types & Tips – Clip In Hair Extensions
Hair extensions, from a bob to super-long locks have brought a whole new meaning to styling your hair. You must have noticed how celebrities would beautifully switch from one hairstyle to another. It's not just the celebrities who use different types of hair extensions for sporting new, attractive looks.
The popularity of human hair extensions has increased across all age groups and sections of people. If you are a novice to the world of hair pieces, you'll be amazed at their variety and how extensions can help you obtain the desired hairstyle.
Whether you are looking to add length, volume or new dimensions of color, human hair extensions enable you to achieve all of that.
If you have never worn hair extensions before, it can be difficult for you to have any idea as to where exactly to start. You'll come across different types of hair extensions.
Extensions are available in a wide variety of lengths, sizes, textures, weight, etc. There are both temporary and permanent hair extensions. There are multiple extension grades and various installation methods like clip in hair extensions, tape in hair extensions, etc.
Below, we'll talk about everything you wanted to know about choosing, using and caring for hair extensions. Keep reading to broaden your knowledge and make a well-informed decision when looking for enhancements.
What are Hair Extensions?
Made of synthetic or real human hair, extensions are attached to a person's original hair to switch to a new hairstyle. Whether you want to add fullness, length, or volume, hair extensions make it all possible in a way that looks incredibly real. There are several methods that can be used to install hair extensions. It is best to seek the help of a hairstylist for a perfect installation job.
Hair extensions made from real human hair are considered to be the best for a number of benefits. You can not just cut these enhancements as per your styling needs, but you can also heat-style them.
Hair Extensions vs Hair Weave
Don't confuse hair extensions with hair weave. Although both of these are related, they are not the same things. A hair weave is actually the process of installing the extension or wefts onto the client's real hair.
During a hair weave, the extension or wefts is sewn into the hair of the client. First, a hairstylist braids the hair into tracks. Then, the pieces of the extension are brought at the top and secured together.
As a result, a hair piece is formed. Finally, weaving with a needle begins. Once the sewing is complete, you see that the extensions are properly attached to the real hair of the client.
Different Types of Hair Extensions
Have you heard about clip in extensions and tape in hair extensions? There are many more types of extensions that you can choose from. But first, you need to understand what each of the various extension types means.
Clip in Hair Extensions
Also known as clip-in wefts, these extensions are available in a wide variety of lengths and colors. Clip-in extensions are designed in a way that you can put them on in 5-10 minutes.
If you are looking for an extension that doesn't take much effort to remove and putting back and doesn't require the use of any chemicals or application of heat during installation, clip-in hair extensions are the ideal choice.
These hair pieces are available in a ready-to-use form. Clip-in wefts are joined together at the top with silicone or fabric. They come with clips at the base. This means you can apply them to your hair quickly.
Using clip-in extensions doesn't do any harm to your real hair. That is exactly why a lot of people prefer this enhancement over other types of hair extensions. Clip-in hair extensions can be made of either synthetic or real human hair. The human hair version is, however, the best for use.
Clip-in wefts is an ideal choice for those people who like to switch from one hair style to another on a frequent basis. Taking care of these wefts isn't hard. You need to treat the clip in extensions just like your own real hair.
Take proper care of these wefts and they will last for a long time. Clip-in wefts will need a wash after you have worn them 15-20 times. You can brush, shampoo and condition as well as heat-style them in any way you want.
If clip-in extensions is what you are looking for, you should get yourself One Clip Hair Volumina. Designed by Newport Hair Loss Center, this extension adds wonderful fullness, volume and color to your hair.
Newport Hair Loss Center also offers other options to enable you to achieve the hair style of your choice. These extensions include Ponytail and Length Volumina™. For detailed information on these clip-ins and directions to apply, feel free to get in touch with one of their hairdressers.
Clip in Hair Extensions – Instant Volume and Length
Human Hair Extensions Clip in – Clip in Hair Topper
Tape in Hair Extensions
As the name suggests, these extensions come pre-taped and can be glued to your real hair. If you are looking for a more permanent extension than clip-ins, you should choose tape-in wefts.
To install this extension, you'll need the assistance of a hair stylist or a hairdresser. The extension is applied with a tool which heats up the adhesive substance.
The installation of tape-ins to your natural hair takes around 40 minutes or more. When you want to take it off, you'll need to use a glue remover.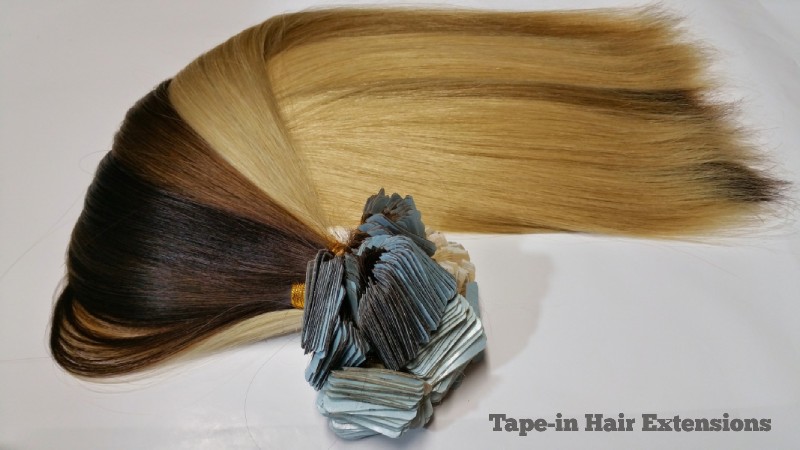 When using this extension, there are a couple of things you should always keep in mind. If you are not careful in using various hair products, the glue can unstick and the extension will slip off as a result. Hair stylists will enlighten you more on how to take good care of tape-in hair extensions and which products to use. Since tap-ins are made from real human hair, you can style them as per your choice.
Once properly installed, tape-ins can last for 7-8 weeks. If they are in good condition and you want to use them again, you will need a re-installation. The extension will last longer with proper care and attention.
Sew in Hair
Also called weaves, the installation of this extension can take many hours. To apply it, the hairdresser first braids your real hair into tracks. Once the braiding is done, the weave is attached or sewn to the braids with the help of a needle and thread. Since the process is both long and difficult, you'll need the help of an experienced hairstylist for proper installation.
Sew-ins are suitable for those people who have thick hair. This is due to the method of application that is used. The installation puts a pressure on the scalp and this can make you feel uneasy.
If your hair is thin and light, using sew-ins is not a good idea. However, this is the most permanent option among all extensions. That is why these extensions also need extra care. When using this type of hair extension, you'll need to keep your scalp well-hydrated.
Experts suggest you use a moisturizer and a conditioner at least once every week. There are special products available to wash sew-in extensions so that they remain in good condition.
Once applied to your real hair, you can continue to use sew-ins for a period of 3-4 months. How long you should use them in one stretch depends on the condition and growth of your own hair.
Micro Loop
This type of extension is also referred to as microlink or micro bead hair extensions. During the installation of this extension, multiple small wefts of hair to your real hair, one strand after another.
The bonding of hair in such a way is done using a metal bead, hence called micro bead extension. Since this installation is not simple, the help of an experienced hairdresser or hairstylist will be required.
A professional knows how much pressure is too much for your scalp and natural hair and so will use the beads properly. Incorrect installation can cause damage to your own hair.
Micro-loop hair extensions are more permanent than other types of enhancements. After a period of 2-3 months, the installation may need some rework so as to keep the microbeads in the correct position.
When talking about hair enhancements, there are also other options such as wigs and hair pieces. Human hair wigs are more suitable for those people who have lost their hair either partially or completely due to scalp complexity.
Hair pieces are a simpler version of wigs, as the former are used to hide hair loss in a particular area of your head. Hair pieces can also be worn to switch to a new hairstyle. Whether you should go for human hair extensions or wigs depends on what your specific needs are. It is a good idea to seek the consultation of a hair loss expert.
Tips to Choose the Right Hair Extensions
Hair extensions come in a wide variety of sizes, weight, colors and styles. You'll come across clip-in, tape in, LOC extensions, Remy hair extensions, tied hair extensions, dreadlock or dread extensions and weft hair extensions, etc.
The idea is to pick an option that goes well with the color and texture of your own hair. If you get the best match, you'll obtain an attractive hair style and it will be hard for people to figure out whether you are using an extension.
Hair pieces can be made of either synthetic hair or real human hair. But the human hair extensions are much better due to a number of reasons.
Whether it is a clip-in, tape-in, micro link, halo extension or any other hand-tied hair extension, getting the natural hair type will enable you to style it as per your wish.
You can take care of human hair pieces just like you care for your own hair. Extensions made from real hair look amazingly real and they are highly durable as well. With proper care, you can have them last for a longer period.
If your own hair is straight, you should go for an extension with a straight hair texture. Extensions with a wavy hair texture are meant for people who have curly or wavy hair.
If your own hair is curly, and you want to use an extension with a straight texture, you'll need some keratin treatment. If you don't style your hair, the extension will not blend well and there will be a mismatch.
When selecting the right length for your extension, you should factor in your own height and the kind of hairstyle you are planning to achieve. The thickness of the extension you buy is also of utmost importance.
Make sure your selected hair extension is not thin at the bottom. Generally, the more weight an extension has, the thicker it will be.
Once you have found an extension you were looking for, you should head straight to an experienced hairdresser for proper installation. The hairstylist will style your extension exactly as per your specific needs.
Talk to a Hair Extension Specialist!
The multitude of options and the wide variety of hair extensions can make it hard for you to choose what is right for you – particularly if you're a novice.
If you plan to add gloss, volume and health to your hair and achieve a miraculous look, feel free to seek the consultation of a hair stylist at the Newport Hair Loss Center, which serves clients in Newport Beach, San Diego and Los Angeles.
We deal in clip-in hair extensions including Ponytail, Length Volume and clip-in hair toppers. Give us a phone call for detailed information on the size, color, texture and installation of these products.
Related Posts
Wigs vs. Hair Pieces vs. Top Pieces – What's the Difference?
Human Hair Lace Wigs (Full & Front): Everything You Wanted to Know
Hair Replacement Systems, Toupee, Hair piece, Wig: Differences & Usage
We can help you find the human hair wigs to suit your taste and style.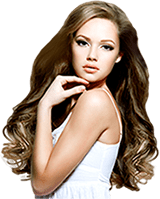 LA OFFICE
Beverly Hills
8383 Wilshire Blvd, Suite 800
Los Angeles, CA 90211
ORANGE COUNTY OFFICE
NEWPORT BEACH
240 Newport Center Drive, Suite 111
Newport Beach, CA 92660
SAN DIEGO OFFICE
LA JOLLA
4660 La Jolla Village Dr. Suite100
San Diego, CA 92122
NEWPORT HAIR LOSS CENTER
Newport Hair Loss Center gives hair loss sufferers a way to restore their appearance and boost their confidence, whether they are suffering from trichotillomania, alopecia, or are currently going through chemotherapy.
Site Map