Newport Hair Loss Center & Amani Hair Wigs
Hair loss affects everyone regardless of race or gender. Men and women experience different forms of hair loss or hair thinning as they get older. Don't wait any longer! A customized solution is out there waiting for you!
Newport Hair Loss Center is your main resource for all things related to hair loss, wigs for cancer patients, hairstyles, tips and tricks, and premiere Amani hair care products.
NHLC has been providing the best hair care in Orange County for the past twenty years. With new locations in Los Angeles, Laguna Beach and San Diego NHLC is one of the top hair salons in Southern California.
Amani Hair Care Collection
Amani hair care products are the industry standard.
Newport Hair Loss Center in The National Hair Journal
Sometimes we meet someone whose skills or story is so exceptional we have to share it with Hair Journal readers. Nazy Curtis is a hair loss expert who meets both conditions
She is a uniquely qualified professional, a successful entrepreneur, and a hair loss sufferer herself. Nazy is from Germany and she trained with the best experts that Europe has to offer. We are fortunate that she chose to make her career here in the US where she runs Newport Hair Loss Center in fashionable Newport Beach, the second studio in La Jolla, a well-heeled community near San Diego, and the third center in Century City. She also runs the d'Orsay, The Art of Hair salon and manufacturing business that sells wigs, extensions, and integrations under the brand name Amani.
We can help you find the human hair wigs to suit your taste and style.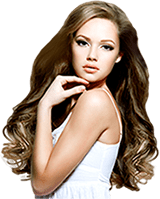 LA OFFICE
CENTURY CITY
1901 Avenue of the Stars, Second Floor
Los Angeles, CA 90067
ORANGE COUNTY OFFICE
NEWPORT BEACH
240 Newport Center Drive, Suite 111
Newport Beach, CA 92660
SAN DIEGO OFFICE
LA JOLLA
4660 La Jolla Village Dr. Suite100
San Diego, CA 92122
NEWPORT HAIR LOSS CENTER
Newport Hair Loss Center gives hair loss sufferers a way to restore their appearance and boost their confidence, whether they are suffering from trichotillomania, alopecia, or are currently going through chemotherapy.
Site Map