Human Hair Toppers vs. Real Hair Wigs: Which do you need?
Men and women lose hair due to various reasons. You may suffer from thinning hair or complete hair loss as a result of cancer treatment. Whether you lose hair partially or completely, it is wise to plan ahead and decide what type of hairpiece will suit your problem best. You might have heard about human hair toppers and real hair wigs. You might have seen a variety of hair pieces, designed to suit different types of hair loss issues in men and women.
The big question is – What is the difference between toppers and wigs? Most importantly, you should know whether you should wear real hair toppers or real human hair wigs? Let's find out.
What is a Hair Topper?
A hair topper is known by different names such as a half wig or top piece. As the name suggests, a hair topper covers only the top part of the head. The appearance of a hair topper is similar to that of a hair wig. But a topper is smaller than a wig. Hair toppers are available in various sizes to suit the individual needs of men and women. It is often used by people to hide their hair loss.
It is important to know who is the right candidate for a hair topper. As mentioned earlier, a hair topper provides coverage only for the top part of the head, you won't find it ideal to cover complete hair loss.
A hair topper is specifically meant for people and patients who have lost their hair partially or who are experiencing gradual hair loss. Although there are realistic hair toppers and lace toppers available in the market, all of them offer only partial coverage in hair loss. So, before you head out to a wig store, you should first determine what you are exactly looking for. A perfect solution is that which is a perfect match for your hair restoration needs.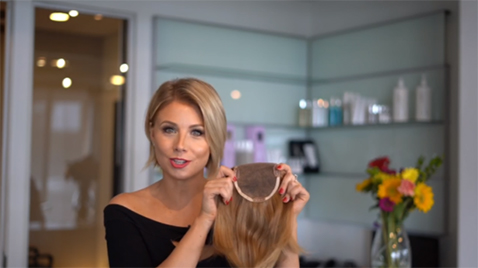 Amani extra-small Toppiece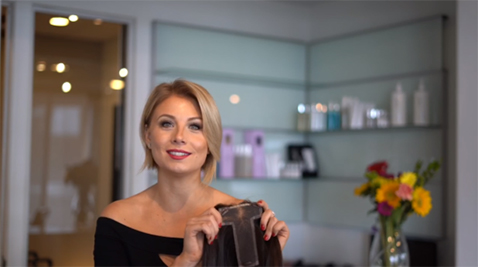 Amani Tizon Top Piece
How to Wear a Hair Topper
There are two ways to wear a hair topper. You can either attach it to your hair with clips or glue. If you want to attach the topper with glue or tape, it is going to take a little more time. However, having the topper glued to your own hair is more secure. Using hair clips can be a problem for certain people who have a sensitive scalp. The hair clips can cause discomfort. If the hair clips are of poor quality, the degree of discomfort you experience will be higher.
Not just discomfort, low quality hair clips can also cause harm to your own hair. That is why, it is important to choose expensive clips and ensure that the hair topper is worn in a secure and proper manner.
Pros and Cons of Human Hair Toppers
Choose a hair topper to wear only if you have thinning hair or a few problem spots on your scalp. When buying these hair pieces, always prefer the realistic ones, which look more natural. Human hair toppers make it hard for other people around you to guess you are actually wearing one.
One key benefit of human hair top pieces is they are light-weight. This means you won't feel warm even if you have these on for a couple of hours. Hair toppers also contain less amount of hair. Compared to other hair restoration solutions, using a hair topper to conceal your hair loss is more budget-friendly. If you suffer from chemotherapy-induced hair loss, alopecia, or other medical conditions, you won't find hair toppers an ideal match to suit your specific needs.
What is a Real Hair Wig?
Wigs are available in a broad range of styles and a variety of colors. You can choose from an array of attractive shapes and styles. Wigs can be made of either synthetic hair or real human hair.
Real hair wigs are made from 100% human hair, specially designed to blend with your own hair in an incredible way. Wig makers craft these wigs with great skills and a lot of effort. The material used in manufacturing real hair wigs is of the finest quality so as to provide maximum comfort.
The best part about this hair restoration solution is that you can style them as per your choice.
CHOOSE YOUR FAVORITE REAL HAIR WIG FROM OUR COLLECTION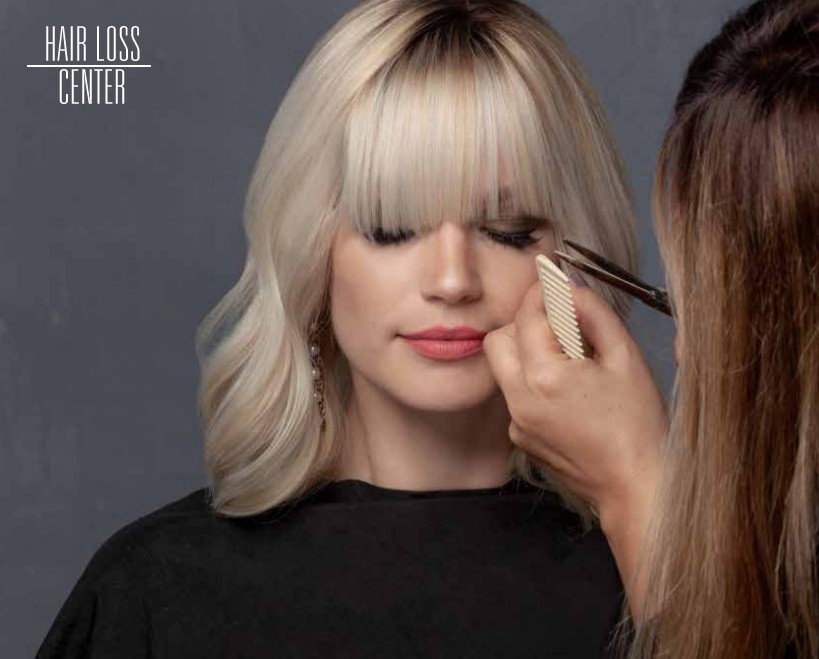 Pros and Cons of Real Wigs
If you are looking for complete coverage for your hair loss, you should certainly buy wigs. Real wigs are an ideal option for anyone who is experiencing hair loss or baldness due to alopecia, trichotillomania or cancer treatment.
Real human hair wigs are just like natural hair. So, you can wash and take care of these wigs exactly in the same way as you care for your own hair. The only exception is that you don't need to wash it as many times as you wash your own hair.
Real wigs offer a number of other benefits. You can wear these wigs on any occasion, while at the office or participating in outdoor activities. The best part is that you don't need to attach it to your own hair.
There are different types of real wigs to help you achieve the look you like most. For example, a monofilament wig allows you to change the look of only a portion of the hair. Lace front wigs are available to help you create a natural-looking hairline.
While you are wearing a human hair wig, it is extremely difficult for people to find out if you are wearing a wig. Anyone who looks at you will think it is your own hair. The wig hair mixes so well with your existing hair that the look is incredibly natural. Human hair wigs are also available to perfectly match your own hair color, texture and skin tone. All you need to do is seek the help of a hair loss expert and he or she will match you to the best matching real human hair wig.
Here's a quick look at what a real hair wig has to offer:
Best for: Complete, long-term hair loss, covers entire head
Hair Type: 100% human hair
Attachment Method: No attachment to existing hair required
Styles: A broad range of shapes, colors and styles
Versatility: Achieve multiple looks with a single hair wig
Comfort: Natural, flexible, non-irritating
Since real hair wigs are crafted from 100% natural hair and top-quality materials, they are more expensive. With some proper care, these wigs can last for a long time and remain in great condition.
Human hair wigs are designed to avoid any kind of slippage at all – even when you run, go swimming, play an outdoor game or even go and enjoy skydiving.
How to Wear a Human Hair Wig
Whether you select a wig from the Amani Hair Collection or decide to have our experts craft a custom wig for your individual needs, using the wig is going to be simple and easy. Each of our wigs comes along with a wig cap which has categories such as Closed Weft Adjustable, Free Hold, and Close Weft FH. Unlike other hair wigs available out there in the market, our wigs won't require you to use either tape or glue. This alone saves you a lot of time and effort.
Once you have found the human hair wig which is a perfect match for your hairstyle, our professionals will walk you through the entire process of wearing the wig as well as storing it properly.
Schedule Your Free Consultation and Find the Right Wig
If you have been looking for an ideal hair restoration solution, head straight to Newport Hair Loss Center in any of our three locations – Los Angeles, Orange County, Newport Beach and San Diego. At our hair loss center, you'll find a broad collection of top quality human hair wigs for men, women and kids. Our experts will match you to a wig which has an incredibly natural appearance, a color you like most, length which suits you best and a style which you most prefer.
The ideal human hair wig will not just conceal your hair loss in a remarkable manner, but it will also transform your life by restoring your self-esteem and confidence. Give us a phone call right away to tell us what kind of wig you would like to wear and start living a happy life again.
Related Posts
Hair Replacement Systems, Toupee, Hair piece, Wig: Differences & Usage

We can help you find the human hair wigs to suit your taste and style.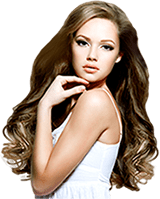 LA OFFICE
Beverly Hills
8383 Wilshire Blvd, Suite 800
Los Angeles, CA 90211
ORANGE COUNTY OFFICE
NEWPORT BEACH
240 Newport Center Drive, Suite 111
Newport Beach, CA 92660
SAN DIEGO OFFICE
LA JOLLA
4660 La Jolla Village Dr. Suite100
San Diego, CA 92122
NEWPORT HAIR LOSS CENTER
Newport Hair Loss Center gives hair loss sufferers a way to restore their appearance and boost their confidence, whether they are suffering from trichotillomania, alopecia, or are currently going through chemotherapy.
Site Map