Types of Natural Hair in Human Hair Wigs
When we want to choose a wig, especially if it is our first time, we usually pay attention to features like how well it stays on, how natural it looks, how easy it is to wear, etc. Although all these are important criteria in selecting a good wig, we must consider the fiber of the hair used in a wig as well. By this, we not only mean if it is synthetic or natural human hair but also what type of natural hair. Types of natural hair in human hair wigs are limited to four main types.
If you wonder what type of natural hair is the best for a human hair wig, read on, you will find the answers to your questions. And if you have more questions, click here for a free consultation.
What Are the Four Main Types of Natural Hair Used in Wigs?
Wigs made of human hair are really popular. Their popularity is not just due to their hyperrealist look and feel, but also how easy it is to cut and style them. Exactly like your own hair. Of course, you need to be gentler with them, as there is no scalp! (To learn more about how to style a human hair wig, see this blog.)
Based on the regions the hair comes from, wigs with real hair are divided into four main types: European or Caucasian, Chinese, Indian, and Indonesian. But these days, we see hair types from Brazil, Peru, and some other regions as well.
Let's see what are the features of each type and how you can manage them.
European or Caucasian Hair in Human Hair Wigs
European hair wigs are common and well-liked among wig wearers. This kind of hair is strong and can handle washing and styling well. That is why it is more durable. It is also soft and has a fine denier. (Denier of the hair is a unit to say how burly or fine the strands are.)
Although they are popular, European or Caucasian human hair supplies are really limited. This means European human hair wigs are relatively more costly and not easily available. Another potential drawback can be the red undertones, which make it difficult to match European hair with more neutral or cooler hair colors.
Our natural hair wigs and hairpieces are made of European hair. This is one of the reasons our hair systems have always met our customers' expectations and desires.
Check out our collections here!
Chinese Hair in Natural Hair Wigs
Asian hair (including Chinese hair) wigs might be the most available type. Unlike European hair, Chinese hair has a thick denier. This means it is very straight and does not lend itself well to styling. In other words, if you wish to curl your natural Chinese hair wig, it will not be that easy. Thick denier causes resistance to body (movement of the hair) as well.
However, its durability is pretty good and it can survive frequent washing and styling. Besides, it can stand heat and chemical processes better.
As the supply of this kind of hair is abundant, Chinese hair wigs are not as expensive as European ones.
Indian Hair in Real Hair Wigs
Like Chinese hair wigs, Indian hair wigs are readily available. The main difference between these two types of Asian human hair wigs is in their denier. Indian hair has a finer denier, more like European hair. It is also less durable than Chinese hair when it comes to heat and chemical processes.
The difference between European hair and Indian hair is in texture options. You can find Indian hair wigs with various waves and textures. This type of hair wig is also more economical compared to European hair wigs. But the price range can differ. The better the quality, the higher the price!
Indonesian Hair in Human Hair Wigs
Aside from being long-lasting and durable, Indonesian hair brings a natural movement of hair to the wig. So, it looks natural and beautiful. Moreover, this hair type can withstand frequent washing and is easy to style.
There is a great supply of Indonesian hair and this has made Indonesian human hair wigs less expensive.
Other Types of Natural Hair in Real Hair Wigs
Beside the four basic types of natural hair in human hair wigs, some other regions have become increasingly active in supplying real-quality hair for hair systems. Some of them include
Brazilian hair, which is easy to style and color. There are different options for texture and wave, as well.
Peruvian hair, which is soft, thick, and easy to style.
Malaysian hair, which looks silky but can be a bit heavy. It is also fine and you can style it easily.
Cambodian hair, which is light and can endure heat and styling well.
Which Natural Hair Type Is the Best for a Wig?
This is a common question we hear. The truth is, although each hair type has its own upsides and downsides, the best is the one chosen according to your own taste, lifestyle, and budget.
If the price is not a problem, then European hair wigs can be a great option. They are like all-in-one packages, having all the main benefits of Asian hair types (mainly durability and fine denier). But if your own hair color is neutral or cool, then you need to pay extra attention if you want to make your European hairpiece blend in with your natural hair color.
However, the budget can be a significant factor for many frequent wig wearers. If so, you should consider other hair types.
If your wig is going to experience chemical processes (or it has already), Chinese wigs are more suitable options. But you cannot expect it to be curled or waved easily.
And if you wish to change your hairstyle quickly and give a different look to your wig, then Indian and Indonesian wigs will serve you well.
So, know what you want, get some advice from experts, and make your choice wisely.
What Is a Virgin Human Hair Wig?
Aside from the region supplying the hair, another factor is what processes are done (or have been done) on the hair.
Virgin hair wigs are high-quality real hair wigs and the most expensive ones. The reason is no chemical processes have been done on the hair, including dying, coloring, and bleaching. That is to say, the hair cuticles have never been damaged and they are completely intact. This results in wigs that are softer, shinier, and supernatural.
Another advantage of virgin hair is that it is stronger and healthier. It can withstand chemical processes, such as dying and coloring, better, because it has never been chemically treated. This adds to its lifespan.
Therefore, not every real hair can be used in virgin hair wigs. It must meet the standards. That is why virgin hair wigs are relatively pricy.
Raw Virgin Hair Wigs
Although virgin hair wigs have never been chemically treated, they are steamed for texture. A subtype of virgin hair is raw hair. Raw hair wigs are not steamed. The strands are totally natural and thus coarser. This means more beautiful curls and waves.
Dyed Virgin Hair
It is possible to dye virgin hair for the first time to use it in a hairpiece. So, dyed virgin hair wigs are still strong and healthy, and the only chemical alteration is being dyed once.
What Is a Remy Human Hair Wig?
If you see the word 'Remy' for a wig, one thing you can be sure of is it is made of real human hair. It is used to refer to healthy natural hair whose cuticles have not been stripped, but not necessarily virgin hair. The strands in a Remy wig come from one or a couple of donors. They are also carefully aligned in their natural direction (top to bottom). Another detail about this type of hair is that the strands are shaved close to the scalp.
The outcome of all these is a hairpiece that looks silky, smooth, shiny, supernatural (in look and movement), soft, tangle-free, and strong.
Virgin Remy Wigs
As its name suggests, a virgin Remy wig is a virgin hair system that is made according to the standards of Remy. This is perhaps the highest quality of real hair wigs which can last longer than other human hair wigs.
Non-Remy Wigs
The strands in non-Remy hair wigs have undamaged cuticles, but they come from different donors and face different directions. That is why they frequently tangle and do not appear smooth and shiny. Therefore, they are less durable.
Human Hair Wigs vs. Synthetic Hair Wigs
Now that we have covered different types of natural hair used in real hair wigs, it is good to know a bit more about the differences between a natural hair wig and a synthetic one. Synthetic wigs are made of monofilament fibers, which are human-made. They are also very common and available.
In the table below, human hair and synthetic hair wigs are compared. This information can help you decide better if you are ready to purchase a wig.
Human Hair Wigs
Synthetic Wigs
Appearance
+More natural looking
+More natural to the touch


-Might get extra volume or lose volume in humid climate (like your natural hair)

+Lighter
+Various styles and colors
-Not so natural to the touch
-Might be too shiny
Styling
+Easy to style, color, etc. (like your natural hair)
+OK to use hair straighteners, and other heat styling devices
-Lose its style as frequent as your own natural hair
-Color fading
+Style memory (does not lose its style and color after washing, sleeping, etc.)
-Not easy to change its style
-Need a professional for restyling and recoloring
-Regular heat styling devices can permanently damage the fibers
Washing
-Washing shortens its lifespan
-Require conditioning after every wash
-Washing shortens its lifespan
Durability and Maintenance
+Long durability
+Best choice for frequent use


-Require more maintenance,

+Easier to maintain


-Much less durable

Cost
-Relatively more expensive


+More cost-effective for frequent wig wearers

+More budget friendly


-Frequent use can cost a fortune!
So, it seems that you are better off with a human hair wig, because of its longevity, natural feel and look, and styling options. Especially if you are planning to wear it often, which means that you can use it for at least a year (if maintained properly). But synthetic wigs can last only a couple of months if used very often.
Want to Know More?
We briefly reviewed various types of natural hair and their qualities. You can contact our experts at New Port Hair Loss Center to ask for more information about our human hair wigs. There are large collections of real hair wigs and hairpieces for men, women, kids, ready-to-wear wigs, sports wigs, etc. All our products are made of high-quality European hair, which look fantastic. If you are worried about the size, you can always order a custom wig. This ensures a great fit because the wig is exclusively made according to your size and preferences.
You can find us in Los Angeles (310-991-0087), San Diego (949-640-4247), and Orange County (949-322-9555). We have got you covered!
We can help you find the human hair wigs to suit your taste and style.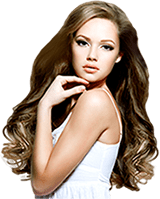 LA OFFICE
Beverly Hills
8383 Wilshire Blvd, Suite 800
Los Angeles, CA 90211
ORANGE COUNTY OFFICE
NEWPORT BEACH
240 Newport Center Drive, Suite 111
Newport Beach, CA 92660
SAN DIEGO OFFICE
LA JOLLA
4660 La Jolla Village Dr. Suite100
San Diego, CA 92122
NEWPORT HAIR LOSS CENTER
Newport Hair Loss Center gives hair loss sufferers a way to restore their appearance and boost their confidence, whether they are suffering from trichotillomania, alopecia, or are currently going through chemotherapy.
Site Map