Weft Wigs vs Hand Tied Wigs
For a newbie, it is quite difficult to navigate the broad range of hair wigs. If you plan to achieve a refreshing look or cover your hair loss, wigs offer ideal solutions both for men and women. It is only that you need to know about the different types of wigs in terms of construction techniques and features. Due to the emergence of new technologies, the wig making process has evolved to bring a wide range of modern hair wigs for a fashionable and natural appearance.
Broadly speaking, you will come across two types of hair wigs at a wig store or hair salon: hand-tied wigs and machine-made wigs. Before you choose to get one of these wigs, you should understand the difference between the two in complete detail. Both the types of wigs present a great solution to hair loss and hair thinning issues, which arise due to various scalp complexities. A lot of men and women all over the world also use these hair wigs to transform their style and appear fashionable. Based on your specific hair loss or fashion needs, you should choose the better option between the two. In this article, we aim to help you differentiate between hand-made and machine-made (or weft) wigs so that you can pick the right one.
What is a Hand-Tied Wig?
Hand-tied or hand-sewn wigs are manufactured by tying every single hair to the soft mesh cap by hand. Made of natural virgin human hair, the hair in this type of wig has all the cuticles intact, traveling in one direction. As a result of no-wefts construct, hand-made wigs come out as incredibly realistic.
The entire process of making a hand-tied wig is a quite meticulous one. It requires great attention to detail and lots of effort. A wig maker spends around 80-100 hours to craft each of these hair wigs.
Apart from having an awesome natural look, handmade wigs are also lightweight. This type of hair wigs offer plenty of flexibility in terms of styling. No matter what specific style or look you want to achieve, you can easily cut, curl or color these wigs to suit your individual needs.
Hand-sewn wigs offer the highest level of comfort because they fit and complement the look so well. Once installed in a proper manner, these wigs have a natural movement. In fact, the hair moves just like your own hair and keeps your scalp free from itching or irritation. Due to this feature, these wigs are an ideal match for men and women who have sensitive scalps and have lost some or most of their hair as a result of chemotherapy medications.
What is a Weft Wigs?
These wigs are produced on a large scale using new-age machines. Hair bundles or hair wefts are mechanically stitched together on the wig cap. Use of machines speeds up the entire wig making process and makes it easy to mass-produce wigs with human hair, animal hair, or synthetic fiber.
Most of the hair wigs you see in the market are machine-made. Though these hair wigs are manufactured through a mechanical process, they can also offer a natural look. In many of these wigs, manufacturers often use baby hair at the front to create a seamless look, which is hard to detect. Compared to hand-made wigs, machine-made wigs are created much faster. The mass production of these wigs is the main reason why these products cost much less than hand-tied wigs. Most machine-made wigs use Remy or synthetic hair and add volume to existing hair.
While thick caps in machine-made wigs increase volume to the hair, they can also make the scalp hot and itchy. This creates a problem, particularly for those men and women who have a sensitive scalp.
The Pros and Cons of Hand-Tied Wigs
To be able to make a sensible decision, you should closely take a look at all the aspects of a hand-tied wig. While these wigs offer a number of advantages, they also come with a couple of limitations. However, the multiple benefits that hand-sewn wigs have to offer far outweigh the cons.
So, let us check out both the pros and cons.
The Pros
High Level of Comfort: Hand-sewn wigs are crafted in a way to move freely. That is why these hair wigs keep the scalp very comfortable. If you are using a hair wig whose cap feels as if it presses on your head, you should definitely opt for a hand-crafted wig to enjoy the highest level of comfort.
Ultra Lightweight: The unique design of a handmade wig also makes it lightweight. The sheer mesh base into which the hair strands are tied by hand is ultra-lightweight and ultra-fine material. Plus, the wig maker makes sure the overall density of the hair is only so much that the wig doesn't feel heavy at all. This is the reason why it doesn't feel like you have installed a wig.
Style Versatility: Since the hair used in these wigs is virgin human hair, it feels and moves just like your own hair. A hand-tied wig is not pre-styled. You can cut or curl to get any specific style. This means you can easily change the position of any portion of the hair and create an up-do or a ponytail. No matter how you style the hair, the wig will always look amazingly realistic.
Ultra-Soft on Scalp: An ideal hair wig is one, which doesn't feel like it presses against the head. It should feel very soft on the scalp. That is exactly what a handmade wig is like. Even if you wear it for several hours in a row, your scalp will easily breathe and remain extremely comfortable. Credit for this goes to the hand-tied design and the ultra-soft sheer mesh base.
Perfect Fit: The quantity of seams used in the construction of these wigs is minimum. As a result of this, the wig sits perfectly well on the head. In fact, the wig conforms to your head size so nicely that it is hard for people to detect that you are wearing a wig over your head. Seek the help of an experienced hairstylist to get it installed on your head in an accurate manner.
The Cons
Since each hair strand in a handmade wig is sewn by hand, the wig doesn't offer a lot of volume like weft wigs. Also, these wigs are expensive because of all the diligent effort and skills that go into its making. The actual quality of a hand-tied wig depends on where you buy it from.
If you plan to get the finest products, you should head straight to the Newport Hair Loss Center. Having operations in Los Angeles, Newport Beach and San Diego, the center offers a range of hand-sewn wigs including full lace hand-tied human hair wigs, handmade monofilament wigs, hand-tied lace front wigs and hand tied lace wigs among others. We craft each of these hair wigs using 100% unprocessed European human hair, which is collected from hair donors.
The Pros and Cons of Machine-Made Wigs
Machine-made or weft wigs have many likable features, but they also lack some. If you plan to change your look with this type of hair wig, you should never forget to properly weigh its pros and cons.
The Pros
More Volume: Weft wigs are manufactured in bulk. This type of wig has a thick cap, which gives a thick, high-volume look to the hair. If you plan to instantly increase hair volume, this wig is a good match.
Not Expensive: As a result of being mass-produced in factories, machine-made wigs are easily available at every wig store or in hair salons. Compared to hand-tied wigs, you will find these wigs much cheaper. For people with a low budget and immediate styling, weft wigs are suitable.
Sleek and Attractive: In terms of style, weft wigs happen to be sleek. However, these wigs are pre-styled. Though you can wear these straight after unpackaging, the options for styling will be very limited. This wig comes with a fixed parting, which means you cannot position in any way you want. If you try to put your hair in an up-do or make a ponytail, the wig will not look realistic.
Hair Material: Machine-made wigs are produced with either human hair or synthetic fiber. Before you purchase this wig, you should find out all the essential details about what hair material it is designed with.
The Cons
Thick Cap: Unlike hand-sewn wigs, weft hair wigs have a machine-made thick cap. Due to the thickness of the cap, this type of wig often feels heavy on the head. But you can get used to the weight over time.
Irritation on Scalp: Weft wigs can make your scalp feel irritated or itchy. Mostly, people with a sensitive scalp can face this issue. For cancer patients, weft wigs will not offer a high level of comfort that is required. In many cases, these wigs can also cause damage to the scalp over time.
Unrealistic Looking Scalp: Since weft wigs are heavy and bulky and have tons of hair stitched to the thick cap, your scalp may not look very realistic with them. So, if you are planning to achieve a completely undetectable hair style, you will be disappointed. Hand-tied wigs look more natural.
Not an Ideal Fit: Machine-produced hair wigs will not be a good match for every event or sports activity. Swimming or snorkeling while wearing this wig is out of the question, as there will always be a risk of the wig slipping off. You will also need to take this wig off before you go to bed.
Before you head out to buy a machine-made wig, you will need to keep a couple of things in mind. You should first decide whether you want machine-made wigs with human hair or synthetic hair. If you are going to put on the wig on a regular basis, you should opt for human hair versions. Synthetic wigs are suitable if you will wear the wig only on certain occasions.
Which is Better?
The difference between a hand-tied wig and a weft wig is quite obvious. They are created to suit different lifestyles and budgets. To make the right decision, you should first assess your exact needs.
Handmade wigs have a sophisticated construct and are more expensive than machine made wigs. If you are looking for a cost-effective option to change your look in an instant, you should go for machine-made wigs. For people who want the absolute most realistic look with high durability, hand-tied wigs are a perfect match. Handmade wigs are particularly ideal for those men and women who have lost their hair due to genetic disorders or medical conditions. These sophisticated, ultra-fine and ultra-lightweight wigs give the scalp utmost comfort.
So, the ultimate decision should be based on your actual needs and other factors such as time, budget and lifestyle.
Talk to a Hair Wig Specialist
If you still have a question or need more clarification on hand-tied and weft wigs, one of our specialists at the Newport Hair Loss Center will be glad to enlighten you. Give us a phone call or write us an email to schedule your free consultation at our center in Los Angeles, Newport Beach or San Diego.
In any case, don't forget to take a look at our newest collections of human hair wigs, top pieces and hair extensions.
We can help you find the human hair wigs to suit your taste and style.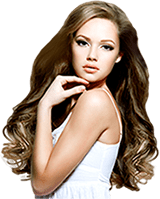 LA OFFICE
CENTURY CITY
1901 Avenue of the Stars, Second Floor
Los Angeles, CA 90067
ORANGE COUNTY OFFICE
NEWPORT BEACH
240 Newport Center Drive, Suite 111
Newport Beach, CA 92660
SAN DIEGO OFFICE
LA JOLLA
4660 La Jolla Village Dr. Suite100
San Diego, CA 92122
NEWPORT HAIR LOSS CENTER
Newport Hair Loss Center gives hair loss sufferers a way to restore their appearance and boost their confidence, whether they are suffering from trichotillomania, alopecia, or are currently going through chemotherapy.
Site Map