Cancer Wigs: Whatever Chemo Patients Need to Know
Chemotherapy causes hair loss or hair thinning in many cancer patients during the first couple of weeks. The hair loss becomes noticeable after one or two months. That is why, it is recommended to think of a way to cover your scalp before starting chemotherapy. Many use turbans, scarves, hats, and maybe the most popular ones, cancer wigs to provide some protection for their sensitive scalps during and after cancer treatment.
If you are a chemo patient, or receiving other treatments that lead to hair loss (such as whole-brain radiation), this article is for you.
You will find out how cancer wigs or chemo wigs can help you in the process, what to consider before purchasing a chemotherapy wig, what options you have, discounts and insurance coverage for cancer patient wigs, and more.
Get a Free Cancer Wig Consultation with Our Experienced Experts by a Phone Call.
What Are Cancer Wigs?
Various types of wigs are available in the market these days. The two main categories are fashion wigs and cranial prostheses (also called medical wigs).
Fashion wigs are mainly used to change your appearance and they look realistic (as opposed to cosplay wigs that intentionally look unreal). But cranial prostheses are wigs used for medical purposes, such as cancer wigs, thyroid wigs, alopecia wigs, etc.
Although they also look realistic, medical wigs are different from fashion wigs in a few ways:
The materials used inside chemo wigs are comfortable and suitable for sensitive scalps.
Cancer wigs fit better and more comfortably so that when a patient moves his/her head the wig doesn't move on the scalp and cause further irritation.
Because chemo patients use their wigs for a long time, the wigs are designed to be combed and styled easily.
Cranial prostheses are usually lighter and cooler to minimize discomfort.
Why Cancer Patients Should Wear a Wig?
Chemotherapy has a lot of side effects, one of which is hair loss. While it might seem like the least important one compared to losing lots of weight or becoming infertile, this side effect is the most noticeable one and the only one you can cover easily.
Many chemo patients like to have their privacy. They do not like people staring at them in public or asking them about their health condition and prognosis. And the first thing people notice is the hair loss. So, it seems wearing a cancer wig can save you from many annoying looks or conversations.
However, this is not all. The scalp can get sensitive and tender as a result of chemo treatment. Even sunlight or air pollution can cause more irritation and discomfort. That is why, covering your scalp from the first weeks of chemotherapy is necessary. This does not have to be a cancer wig. You can use scarves, turbans, hats, and any other comfortable head coverings. But a cancer wig, aside from providing comfort, can boost your self-confidence and make you feel more like yourself.
Besides, cancer patient wigs can protect your bare head on extremely cold or hot days. Check out our wig collections for men, women, and kids here.
What to Consider Before Getting Your First Chemo Wig
A chemo patient has a lot going on in his/her life, so they may not have enough time or energy to go through different wigs and experiment with each to find out what is best for their condition. Here, we gathered all the factors you have to consider before buying a cancer wig.
Prepare In-Advance for Cancer Treatment Hair Loss
As mentioned above, after the first couple of months into chemotherapy, the hair loss gets noticeable. As chemo patients do not usually have enough energy, it is better to get your cancer wig even before starting chemotherapy.
It might be even possible to get a wig maker to craft a wig out of your own hair before losing them. This might cost you a bit more, but it will feel nice to wear a wig with your own hair. However, you must make sure the wig will be a cancer wig, not a fashion wig.
Another way to prepare for hair loss is by cutting your hair short or shaving it. Chemo patients usually shed their hair during the first weeks rapidly. The sight of losing a lot of hair at once while taking a shower or brushing can be heartbreaking. If your head is shaved already, you won't notice the hair loss every day. Plus, you will get used to a hairless head and wearing a wig, or any other head coverings.
For more information, read this article about scalp care, especially the tips for sensitive scalps.
Where to Find a Quality Cancer Wig
Any reputable cancer wig shop that offers consultation for choosing the right wig will do. The expert usually asks you about your condition, your lifestyle, your budget, what style and color you prefer, and so forth. Then, she/he recommends chemo wigs that are most suitable for you.
If you are ready to pay more, or if your insurance covers your wig (it will be discussed below), you can ask for a custom wig. A custom wig is designed and crafted exclusively for you, so it will feel more comfortable and fit better.
It is best to shop for your wig in person. You can find our Hair Loss Center in California in Los Angeles (1901 Avenue of the Stars, Second Floor; phone: 310-991-0087), Newport Beach (240 Newport Center Drive, Suite 107; phone: 949-322-9555), and San Diego (4660 La Jolla Village Dr. Suite 100; phone: 949-640-4247). See some of our hair loss clients discussing their experience of getting a cranial prosthesis here.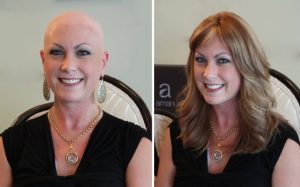 What Kind of Wig Is Best for a Cancer Patient?
Wigs can be categorized into synthetic wigs and human hair wigs. The strands of hair in synthetic wigs are made of artificial materials, but in human hair wigs, as its name suggests, the strands of hair are real (to learn more about real hair wigs and compare them with synthetic ones see here).
Synthetic wigs are usually cheaper, lighter, and do not lose their style. However, the artificial material might be irritating for some sensitive skins, they cannot tolerate any kind of heat (like styling devices, stoves, very hot sunny days, etc.), and for frequent use, a good one will last for about 5 or 6 months.
Human hair wigs are more realistic, can be styled, dyed, and cut just like your own hair, and last for a year (or more) for frequent users. But they require more careful maintenance, are a bit heavier, and are more expensive.
You can also order a custom human hair wig, as mentioned above, but keep in mind that making it can take a few weeks.
So, choosing the right wig depends on your condition, your lifestyle, your budget, and other factors. Having a consultation with an expert and trying on a few wigs will help you make the right decision.
We make wigs with European human hair, which is the best type of natural hair. Call us to get a quote.
Discount, Insurance Coverage, and Cancer Wigs
Some insurance companies cover a medical wig partially or completely. You need to talk to your insurance representative to find out. But do this before purchasing a wig. To find out how you can get your chemo wig insurance coverage, read our comprehensive guide for medical wig insurance.
And, if your insurance does not cover your chemotherapy wig, there are other ways to get some financial help or even a free cancer wig. American Cancer Society usually provides free wigs or wigs with discounts for cancer patients. Check out its website to find out more.
There are also other charities and organizations that are ready to help. You can just search for them on the net.
What Wig Construction to Choose for a Sensitive Scalp
Wigs constructions are different. Some of them are hand-tied and others are machine-woven. There are also lace-front wigs, open-weft wigs, and a combination of these. Each type has its own pros and cons. For example, machine-made wigs are more budget-friendly than hand-tied ones but they can be irritating for the sensitive scalp of chemo patients. So, if you choose a machine-made one, you should wear a cotton wig cap under it. The cap helps you feel more comfortable and secure your wig more easily.
Lace-front wigs are also popular for cancer wigs because the hairline looks very natural.
Securing and Maintaining Cancer Wigs
Worrying about if your wig is well-secured or not is a valid concern. There are different ways for securing a wig on your head (see here), but for sensitive scalps, wig grip bands seem the best option. It is simple to use and you can secure your wig or remove it in no time. Also, if you have some hair, you can use wig clips to add more security.
Maintaining a wig is an important factor in its durability and look. Human hair wigs require more maintenance than synthetic ones. But generally, you have to wash your wig after 10 to 15 times of wearing it. However, it really depends on your lifestyle and how much your scalp sweats.
You do not need to worry about these matters. When you are buying a wig, the expert will tell you all you need to know about securing and maintaining that specific kind of wig.
Read our complete guide for taking care of your human hair wig and styling it to learn more.
Choosing the Style and Color
It is up to you what style and color to choose. If you do not like to look that different, you can choose a style, texture, and color that is closest to your own hair. You may also want to experience a totally different look. So, it is your decision to make.
Just keep in mind that, your skin color may change during chemotherapy, so this is something you might want to consider when choosing the color of your wig.
We Make the Most Natural-Looking Human Hair Wigs for Cancer Patients
Our center is different from other wig shops in that we are specialized in wigs for hair loss. That is why our team is experienced in making cranial prostheses for cancer patients, alopecia patients, thyroid patients, and other people experiencing hair loss. This has made our experts the best counselors to recommend and guide chemo patients.
We also do our part in helping our customers get insurance coverage. To talk more, call us at 949-640-4247 or ask your question by filling out the form below.
We can help you find the human hair wigs to suit your taste and style.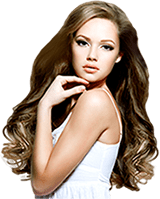 LA OFFICE
CENTURY CITY
1901 Avenue of the Stars, Second Floor
Los Angeles, CA 90067
ORANGE COUNTY OFFICE
NEWPORT BEACH
240 Newport Center Drive, Suite 111
Newport Beach, CA 92660
SAN DIEGO OFFICE
LA JOLLA
4660 La Jolla Village Dr. Suite100
San Diego, CA 92122
NEWPORT HAIR LOSS CENTER
Newport Hair Loss Center gives hair loss sufferers a way to restore their appearance and boost their confidence, whether they are suffering from trichotillomania, alopecia, or are currently going through chemotherapy.
Site Map